Adventures with Forest Fairies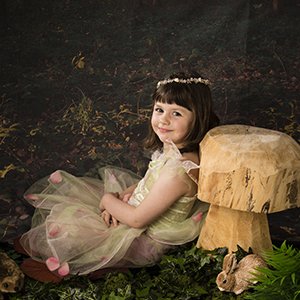 Adventures with Forest Fairies
Since I was a little girl I've always wanted to see a real life fairy and 2014 is the year that I made it happen. This year I've been transforming the studio into a magical woodland forest on special occasions for Fairy Days photo shoots.
I was unsure how the idea would go down before I started, but it's been quite the hit! And I'm glad, because it's pretty fun to photograph fairies.
Recently I've been lucky enough to photograph some beautiful fairies and even a cheeky little elf too! These photos come from a number of studio sessions with children between the ages of 2 and 6.
Some of the kids were a little bit shy so I gave them lots of time to come out of their shell and encouraged them with lots of smiles and praise. Of course it helps that mum and dad are there to give them a boost too!
I like to plan my photography sessions really carefully because anything could happen when children and babies are involved. Trust me, I don't believe there's much I haven't seen in the studio!
I allow for any extra time that the kids might need to get over their natural shyness. It's never so much of a problem with the babies! I like to think that the devil's in the detail so I try to think of everything in advance, to make your child's photo shoot as smooth and enjoyable as possible.
I've invested in some good quality props too to make photo shoots like these forest fairy ones extra special. The wooden toadstool is one of my favourites; the kids always look so sweet sat on it! I'm pleased with the warm woodland feel that the backdrop gives to fairy shoots too.
Sometimes I'm surprised by how excited the little ladies get at the prospect of waving the magic fairy wand but then again, I do like to give it a wave too sometimes (when nobody's looking, shh).
I've got a selection of gorgeous fairy and elf outfits that will make your child's face light up when they put it on, but you can bring your own outfit if you've got something you'd prefer.
Join my world of make believe and book a place on my next Fairy Day on Saturday November 8th 2014. Appointments are limited, so please call 01279 433392 to book.
About Sue: I'm really lucky, I'm a professional photographer who works with children and babies – I capture that fleeting phase for parents so they have those memories forever. For more information visit suekennedy.photography, join me on Facebook or call 01279 433392.