Featured Studio – The Big Photo Ezine – December 2017
I was & am delighted to be selected as a Featured Studio for The Big Photo Ezine published December 2017. Below is my excerpt from the magazine, it covers a bit of background on how I came to set the studio up, and the challenges along the way. Enjoy!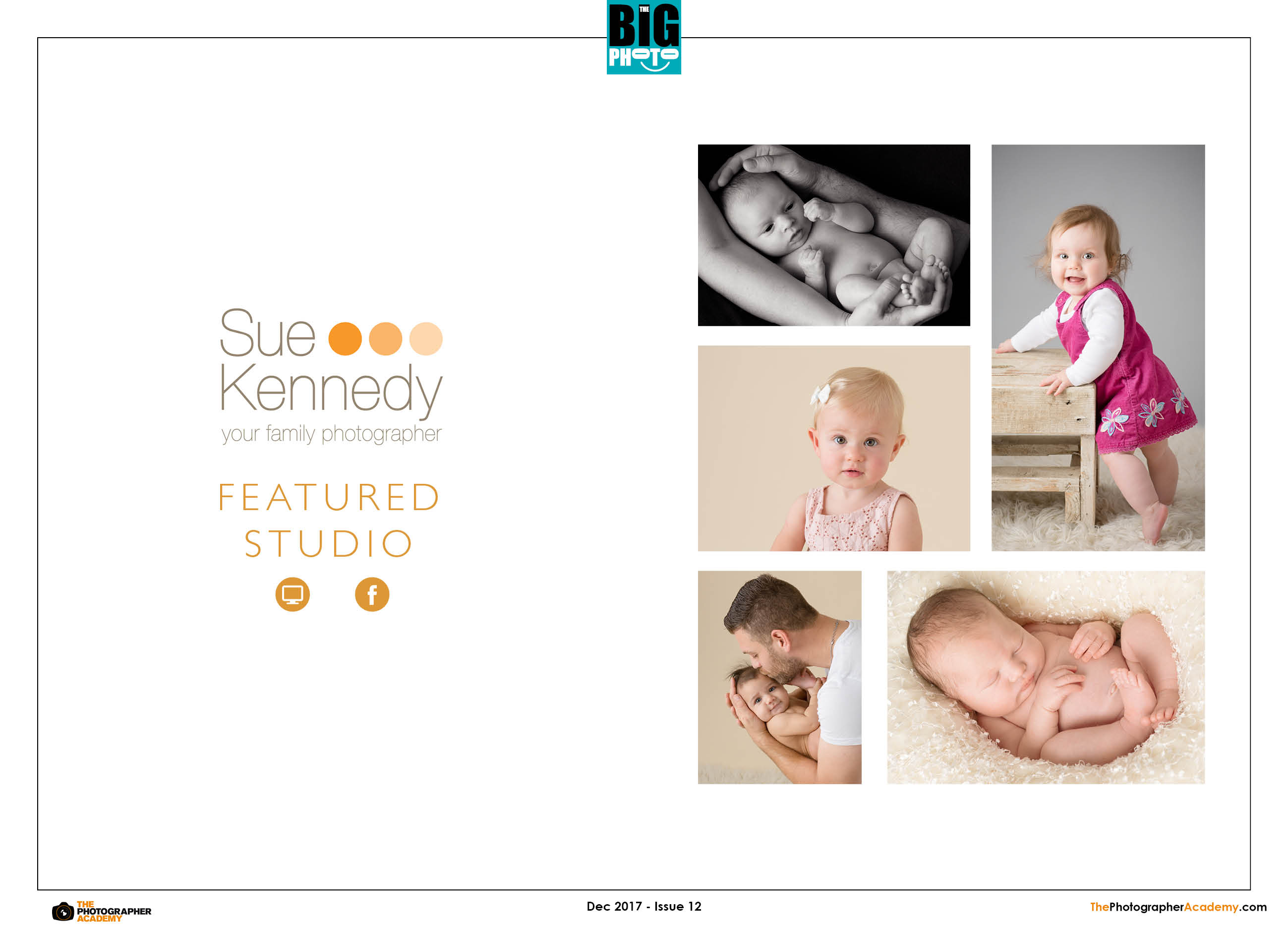 Can you give us a brief history of the business and your current studio? Who are you, when you started the business, how and why did this studio space come about.
So, the business was created in 2002, when I left corporate life with a redundancy package, and a determination to turn a hobby into a business. Initially I worked from home and focused on landscape photography, but realised I need to follow the money and turned my attention to babies. Everyone else was having one (I was a late starter on that front ☺) And it turned out to be a good (fairly recession proof) move. The studio space came about in 2004 after a random conversation with a PR lady, I went looking for exhibition space and stumbled upon Parndon Mill, and got talking to the building manager. Discovering, they had artist studios (workshop) available to rent, I took the one that was available on the top floor. It was meant to be, ever since then, there has been a waiting list. I did a studio swap in 2006 & moved to the first floor. The move, meant I had space to run a studio/viewing/office all in one, and the clients could come to me.
What type of studio are you? (location, main clientele, etc.)
The Studio is located on the edge of Harlow, Essex, a new town created to accommodate the overspill from London after the war. I specialise is Baby & Child; babies & toddlers in the studio, then children & families on location (using the grounds at Parndon Mill) and my main clientele are new parents from the surrounding area, and the parents returning with baby no 2 & 3, and sometimes 4 …
Parndon Mill, is a unique location. A converted flour mill building, that has been converted into various studios, offices and workshops for creative businesses. It is still owned and managed by the artist that took on the entire space in the 1960's when it was a derelict shell. You can watch their fab overview video here to get a better look at the overall location.
How is the studio space laid out and how does this work within your business? E.g. studio, viewing room, office, etc.
It's one room roughly 8mx5m, and currently I have to make this work as a studio space, viewing room and office space all in one.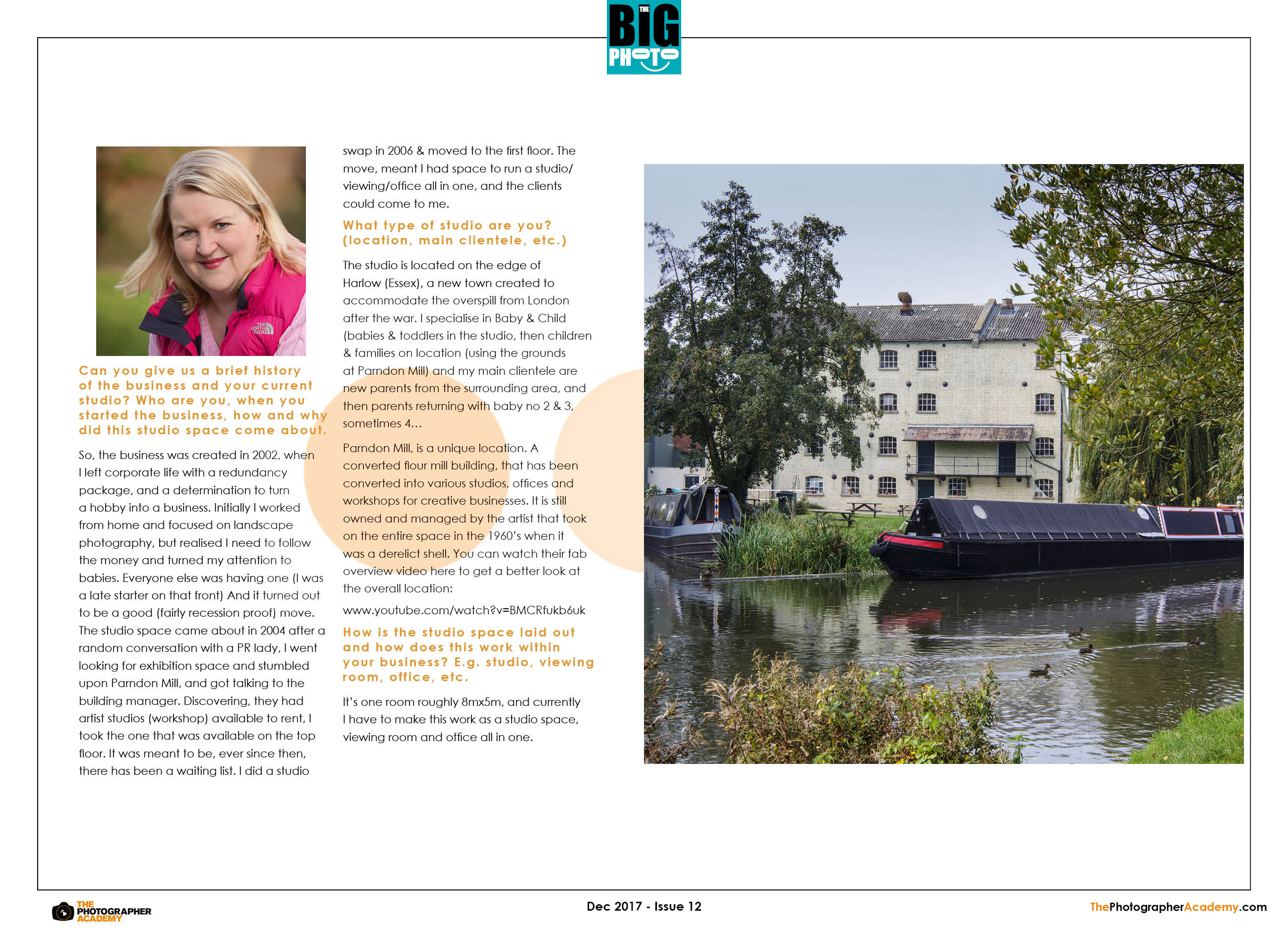 When designing the studio what were the specific criteria used or decisions that you took to maximise the space?
I wanted to create a homely environment, and indeed some children do think I live there! I have gone for furniture that is a little quirky, as that fits in with the building's character. I have plenty of built in storage, which was insitu when I arrived. One side is the viewing/reception area, and the back half is a studio area. I had to consider the fire escape routes when laying out the studio, (due to the age of the building and its construction, the businesses either side of me can exit through my studio and I can exit via there's.)
Were there any majors issue or unexpected problems that you had to overcome?
Not with the studio as Parndon Mill is a true creative hub, there is around 20-30 other creative businesses around me from architects to artists. It's good to have people around you even if just for a natter (and taking in my parcels). Plus, it's in private ownership, and the owner operates her own business here as well and lives on site, which helps. She also keeps chickens, geese, sheep, and pigs, who like to photo bomb my location shoots, usually to the great delight of the child or family I am photographing.
I have overcome a chronic illness which has impacted the growth of the business, and juggling childcare is always a challenge. I have chosen to operate during school hours in the studio, and have a home office where a lot of the post production and admin happens in the evenings. As a result I automate what I can, use the services of a book keeper, virtual assistant and telephone answering service to support me. And I have learnt to keep moving forward one step at a time, I don't have large chunks of time available to be, so have gotten used to fitting things in when I can. I write blogs whilst waiting for my daughter at dance class, for example.
What one piece of advice would you give to someone setting up a studio?
I didn't go looking for studio space when I found my studio at Parndon Mill, but knew it was right and rolled with it. I am a big believer in listening to your gut instincts anyway. When I wanted more space a couple of years back I couldn't find anything that compared in terms of location, ease of parking and affordability so I stayed put. That's when I figured out what was important to me. The location is unique and a little quirky, but it allows me the freedom to run my business my way. I remember at the time I took it on, worrying that it wasn't on a high street, but that hasn't been an issue for me. Also, the sensible stuff like market research, and business planning is important. I have also always invested in training, and wished I'd done more to fast track myself at the start.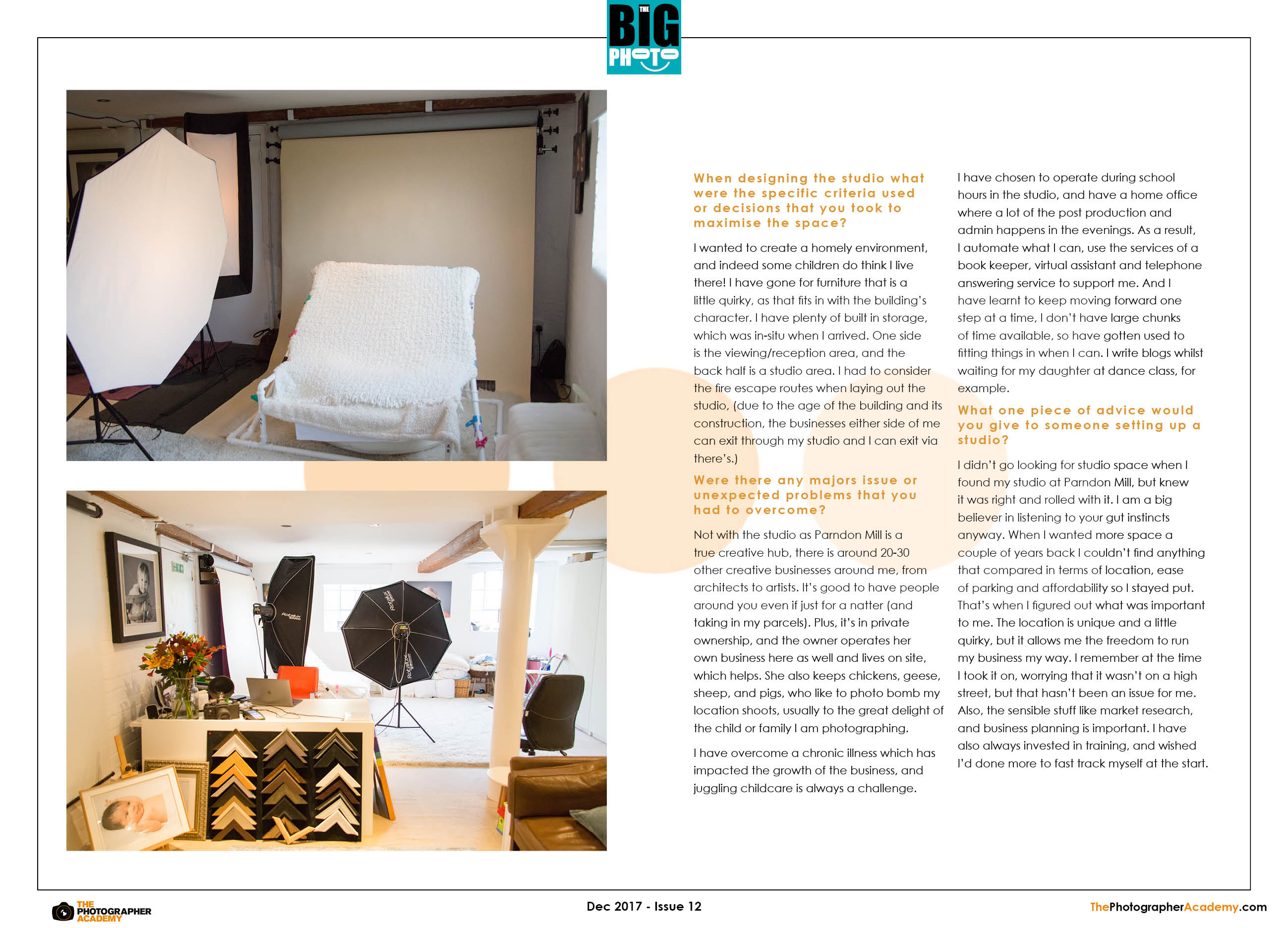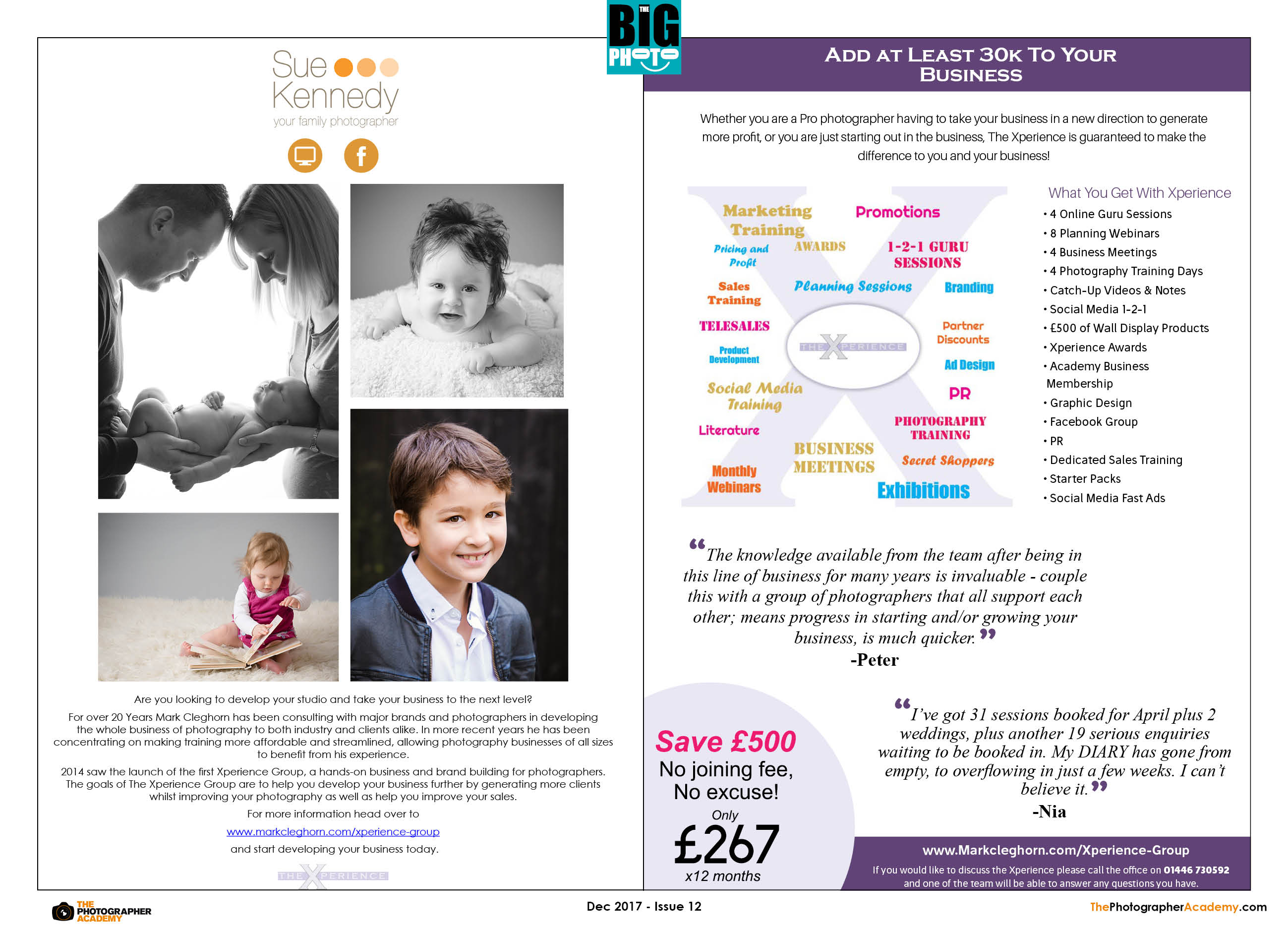 To see the full edition of the magazine, use this link – The Big Photo Ezine – December 2017,  and navigate to p78 for my Featured Studio.
About the photographer: Sue is a professional portrait photographer based in Harlow, Essex and she specialise's in baby and child portraiture. Being a parent, she understand's just how special your child is to you and her aim is to produce a collection of images that are natural and meaningful to your family. No two moments are ever the same and she wants to perfectly capture those early precious memories and the natural character of your child. For more information please call 01279 433392, visit the Sue Kennedy Photography website and follow Sue on Facebook or Instagram.
If you enjoyed reading this blog 'Featured Studio – The Big Photo Ezine' please consider sharing it with your friends