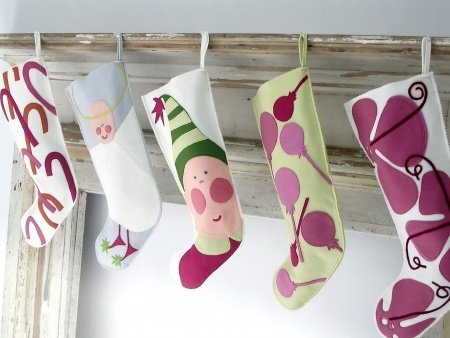 The perfect Christmas stocking
The perfect Christmas stocking
With not long to go before Christmas, the chances are you've either got your child's gift sorted, or at least know what they're after*.  However, while their main present may be the thing that they're most looking forward to, I think an underrated part of a child's Christmas morning is the stocking that they get to open first thing.
As a child, there is nothing quite like that moment when you wake up (far too early) on Christmas morning.  That excitement when the day you've been longing for is finally here – and not only that, but there's a nice heavy stocking at the end of your bed – is indescribable.  This stocking signals that you can get this show on the road, even though you can't open your main presents until the ceremony later.
However, as Christmas has become more and more commercial, I fear that the power of the stocking has – to a certain extent – been lost.  Lots of kids nowadays are far more excited about the potential Star Wars figure or Giant Unicorn that's going to come later.  But it doesn't have to be like that!  Read on for a few key features of the perfect Christmas stocking:
Wrap the presents – Whatever you're going to put in the stocking, it's a great idea to wrap it up.  Not only does this make it seem like a more authentic Christmas experience, but it also prolongs the time it takes for them to get bored of the whole stocking experience!
Include something that can be played with – This is a key point and gets to the heart of one of the most crucial ulterior motives of a stocking.  The longer your child is occupied with the stocking, the longer you'll be able to stay in bed (theoretically at least).  Including a toy that your child is going to like gives you more chance of more sleep; and by the end of the day, you'll be needing all the extra energy you can get.
Think about a game or a puzzle – something that is easy enough to grab their attention, but difficult enough that it takes a while to complete.  If you've got more than one child, maybe put something collaborative in both stockings – that way they'll have more to enjoy and can do it together.
Give them something to eat – In the same vein, including an edible item in your child's stocking is a great way to keep them fed and watered on Christmas morning.
A popular favourite for stockings is a tangerine, clementine or satsuma, but you've also got the option of nuts, chocolate or other fruit.  If you fancy adding an especially Christmassy touch, chuck a couple of candy canes in there too.  Oh, and gold chocolate coins are a must! In our house, a chocolate orange is a must!
What about some crayons or felt tips? – If your child is a budding artist, then an ideal move is to put some art supplies in the stocking.  Not only will they be delighted to receive something they can use, but they'll also be able to use it straight away.  Why not add a note suggesting they draw the tree or some decorations?
The Christmas stocking really is the most delightful tradition, and I'd hate to see it lose popularity.  I hope my tips are useful and help you to keep the stocking alive.  What do you guys put in your stockings?  I'm always after new ideas…
* If you haven't got your child's gift yet, and don't know what to buy, get a move on!
About the photographer: Sue is a professional portrait photographer based in Harlow, Essex and she specialise's in baby and child portraiture. Being a parent, she understand's just how special your child is to you and her aim is to produce a collection of images that are natural and meaningful to your family. No two moments are ever the same and she wants to perfectly capture those early precious memories and the natural character of your child. For more information please call 01279 433392, visit the Sue Kennedy Photography website and follow Sue on Facebook or Instagram.
If you enjoyed reading this blog 'The Perfect Christmas Stocking' please consider sharing it with your friends