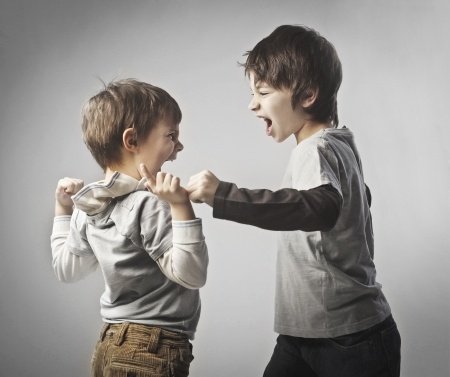 Sharon Osbourne vs Lady Gaga: should your child be fighting their own battles?
Sharon Osbourne vs Lady Gaga: should your child be fighting their own battles?
In many ways, the world of show business is very different to the everyday lives of people like you and me.  In some ways though, life just doesn't change, whether you're a millionaire or not.
To cut a long story short, the tabloids were recently awash with the news that X-Factor judge Sharon Osbourne had had a dispute with Lady Gaga as a result of Gaga's treatment of her daughter Kelly.  'Okay, okay, big deal', I hear you say, 'yet more celebrity histrionics'.  When I heard about it I felt very similar.  But then I read an article in the Telegraph that suggested there was an underlying principle in this story that needed to be expounded.
Sally Peck, writing in the Telegraph basically made the point that she believed Sharon was committing one of the fundamental errors of motherhood – not letting your child fight their own battles.  Peck went on to make the point that if you fight your child's battles for them, they are unlikely to be as proficient when it comes to fighting them themselves; and ultimately, fighting your own battles is a necessity in modern life.
I tend to agree with Peck, but agreeing with her doesn't necessarily make it any easier to follow her advice.  As parents, we naturally want to ensure that we look after our children as well as we possibly can, and consequently, if another child is horrible or mean to our child, this is entirely counterproductive to our aim.  Hence we have a tendency to step in and try to make sure that our child is okay.  In the short term it's the kind thing to do, but I do wonder if perhaps I should try and let my daughter fight more of her own battles.
Mean people come in all shapes, sizes and ages.  I can do my best to shield my Alice from the mean children her age, and defend her when she has been wronged.  But one day, I won't be able to do that anymore, and that's what makes me think that maybe I should be trying to take a step back and prepare her for that day.
What do you guys think?  Are you tempted to defend your child against other children?  Do you have advice for anyone who struggles to detach themselves from the woes of their offspring?
Sally Peck's original article can be found here.
Written by Sue Kennedy
Sue Kennedy is a professional photographer based in Essex and specialises in studio baby portraits and outdoor child/family portrait photography.
You can find Sue on Facebook and Twitter.