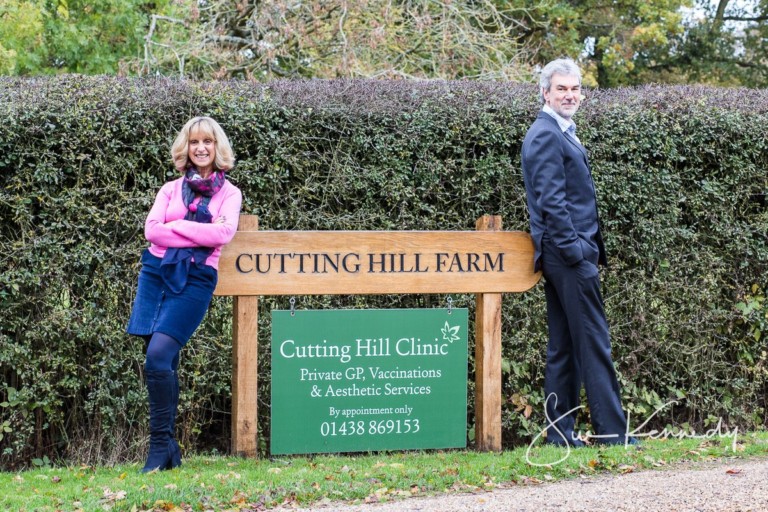 She's Focused – Cutting Hill Clinic
Second in my blog series, "She's Focused" is Carolyn Godlee who runs the Cutting Hill Clinic in Benington with her GP husband
Tell me a little about yourself in a few brief sentences.
I'm Carolyn and I run the Cutting Hill Clinic which I launched at the beginning of 2016.  I used to be in publishing before moving into the world of education – I was a teacher for many years before becoming a Headteacher back in 2008.  I loved it but by 2015 I'd had enough of never being at home and I was missing my family.  So I decided to leave school behind me and do what I'd always wanted to do, which was to open a private medical clinic in premises next to my home in Benington.  My husband's a GP and this was a great way of working together and fulfilling a local need.
When did you start your business and what was your inspiration for doing so?
It's all still very new, having launched the business in February of this year.  In terms of inspiration, well it was a case of giving in to local demand and doing what everyone told me I should be doing!  I think that many people are getting pretty fed up with never having enough time with their doctor.  It's not the doctors' fault – they have so many patients to see in a typical NHS surgery and 10 minutes is about the maximum they can allow, but it's frustrating that there is never time to really discuss things properly and to get to the bottom of sometimes quite complex problems.  Julian, my husband, shared this frustration and having been asked again and again why we didn't open up a clinic in Benington we decided to bite the bullet and do it!  We haven't looked back – and now we offer not only private GP appointments which last as long as patients need, but also childhood immunisations and travel vaccinations.  Plus aesthetic treatments such as wrinkle relaxing injections (commonly known as Botox) and cosmetic fillers – things which are best administered by an experienced doctor who knows exactly what he's doing.
Don't children get vaccinated routinely on the NHS?
Yes, but sadly not for everything.  We have been really busy recently with lots of parents wanting the Meningitis B vaccine for their children.  It's currently offered on the NHS to children who were born after May 1st 2015.  But if your child was born before this date, they won't be offered it as part of their routine NHS immunisation schedule (although we hope that this may change in the future).  Chickenpox is another popular one.  Again, it's not routinely available on the NHS, although it's part of the vaccination schedule in many other countries.  We do believe that children should be vaccinated against chickenpox and we hope that this will eventually change.  However, in the meantime the good news is that you can get your children vaccinated privately at the Cutting Hill Clinic.

What is your happy song – you know the one you can't help but smile to when you hear it?
That's easy – I will survive by Gloria Gaynor.  I love it.  And my kids know that I want it at my funeral when my time is up!  And at the other end of the spectrum, I just love Dido's Lament by Henry Purcell.  Heart-wrenching stuff.
Share something that not many people know about you…
Oh gosh.  I don't know ……. There are lots of things!  I once sang on the BBC's 'Friday Night is Music Night' with a close harmony group – 6 of us and the BBC concert orchestra.  And on Radio 4's 'Start the Week'.  Also, people are often surprised when they find out I'm from Liverpool as I don't sound scouse any more (but I used to ) and I went to John Lennon's school.
Best advice you've have been given?
Never, ever give up.  I think it was Churchill who said it.  I used to say it to my pupils again and again.  It's a great lesson for life.
What is your favourite local business / shop / restaurant and why?
I really love Pearce's – the A10 farm shop.  I just think they've achieved something amazing there.  It's grown into such a successful business and I love the fresh produce and latterly, the gorgeous café that they've added.  I love going there – particularly in the run up to Christmas when it's just stuffed with everything you could possibly want to make Christmas extra special.
I'm also a great admirer of WPA (Western Provident Association) which is a not-for-profit private medical insurance firm.  They're actually based in Somerset but they have account managers all over the country and our local account manager is Sally Greenwood, who amazingly enough is also based in Benington – about 3 minutes away from the clinic.  They offer some excellent packages and lots of people, ourselves included, have decided to move across to them for private healthcare insurance.  We're so impressed with what they offer that we've recently become registered WPA providers.
What accomplishment are you most proud of?
It has to be bringing up my 4 children – 3 girls and a boy.  They're grown up now – 18 – 28 in fact – and I'm so proud of them.  I was also pretty chuffed when my school was inspected and we got excellent in all areas.  And we have a windmill in North Norfolk – Cley Windmill – which I'm really proud of.  We run it as a guest house and we have such a great team there.  It's special and I love telling people about it.
If you could have one superpower what would it be?
I'd really love to be able to survive on less sleep.  I'm so envious of people who don't need much sleep – say 4 or 5 hours.  There's always so much to do and it would be so great to have more time.

Tell us a little about your business and why people should use it?
The clinic is in a lovely place – in a little village called Benington – but really easy to get to.  It's about 10 minutes from Ware, Hertford and Stevenage – bang in the middle.  People say they feel better just coming down the drive!  We've tried to make it welcoming and a bit special – there's a lovely waiting area and the consulting room is a big, open plan space with a beamed ceiling.  It's a nice place to be.  The staff really care and Julian, the Doctor, is so experienced that patients know that they are safe in his hands and that his advice is going to be spot on.  He gives patients his undivided attention, with lots of follow up where necessary, and appointments typically last about 30 – 60 minutes.  Parents feel safe bringing their children for their vaccines, and those patients who come for aesthetic treatments are secure in the knowledge that they are being treated by a Doctor who has over 30 years experience.  He is also Senior Partner in the largest NHS practice in St Albans.
What is your favourite plant/flower and why?
I love hyancinths.  I always have.  Not because they look particularly nice but I adore the smell.
What's your guilty pleasure?
I have two – Jo Malone handwash, and  a glass or two of chilled prosecco.
What would you invent for new parents?
That's such a hard question!  Something to ensure that the baby sleeps through the night from the word go so that the poor new parents don't spend their days in a dazed state of sleep deprivation.
Anything new coming up that we should know about?
Yes, our latest addition to the list of services is a series of Health Screening Packages – Bronze, Silver, Gold and Platinum – depending on just how thorough you want your screening to be.  They are fully administered by a Doctor as opposed to a nurse or healthcare assistant and they  offer real reassurance to those who may want to get checked out – after all, what can be more important than your health and checking that all is well? – a stitch in time ……………….
Your contact info
Cutting Hill Clinic, Cutting Hill Farm, Whempstead Road, Benington, Herts,SG2 7DJ
01438 869153 | info@cuttinghillclinic.co.uk | http://www.cuttinghillclinic.co.uk

Save
Save
Save