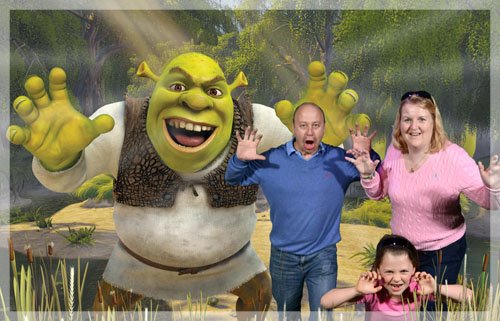 Shrek! The London Experience
On the first day of the school holiday I took my daughter to the new Shrek experience in London, in the old County Hall building opposite the London Eye. The experience itself is amazing, and I'm not going to spoil the surprise by giving away too much detail, but I enjoyed it too 🙂 The combination of visual effects, live actors, and the actual set create a very enjoyable 4d experience.
As you go in they take a series of shots of your party against a plain screen. You are asked to smile, run, and get your claws out. It isn't until the end, and you see the results in your travel journal that you understand the reason you acted the fool.
Also I would like to add that Alice did have leggings on, but with green screen technology working the way it does they appear to have disappeared. My tip? Don't wear green or blue when you go!
There are plenty of other photo opportunities that aren't an upsell, but it's not often I am in front of the camera, so I did buy them. Plus we had had a fantastic time.
My plan is to create a photographic scrap book of the Summer Holidays, because I want her to remember everything we have done, whether expensive or cheap, and that we had fun regardless of the cost or weather.
Memories are priceless …