FOR BABIES AGED 3 MONTHS+
Life moves fast in a baby's first year!
Your precious baby changes so quickly, and those big changes may be forgotten without the right photograph to capture the memory.
I am offering a unique opportunity to come and enjoy a Baby milestone Photography Session at Sue Kennedy Photography. My studio in Harlow, Essex is perfectly designed specially for babies 3 – 10 months old for only £95.
I will focus the session on whatever stage they are at; pushing up, sitting up or standing!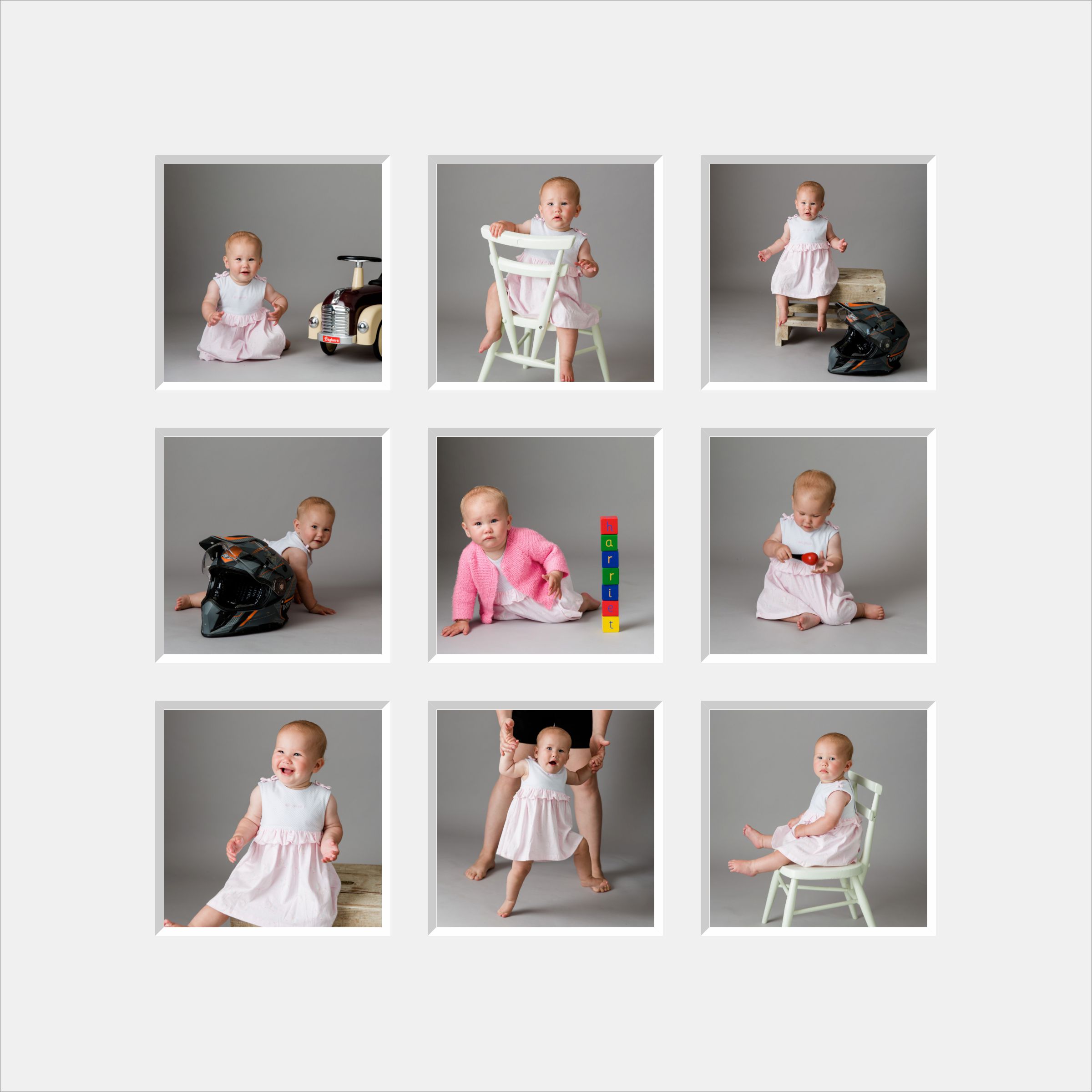 The good news is baby's don't stop being cute, so if you missed out on the newborn phase, there are still a lot of lovely pictures to be had. A milestone photography session is a perfect way to create memories during your baby's first year.
Siblings are welcome to join in too, and Mum & Dad!
Your milestone baby photo shoot is tailored to your baby's development stage, and you are welcome to personalise with a keepsake, a favourite stuffed animal toy, and do bring a few outfits if you wish.
Some families choose to book a series of baby milestone sessions and join my Baby Club, typically these photo shoots take place when your baby is 4, 8 and 12 months or pushing up, sitting unaided and standing.


Baby Milestone Photography
I capture every detail of your growing baby, in natural poses, adjusting the poses to suit them.
I allow plenty of time for my photoshoots, so if a bum change is needed or a reassuring cuddle we have time.
The £95 milestone session booking fee is payable when you book and secures your date & time in my diary. It does not include any product or digital files.
STEP 1: BOOK
Use the booking link to select your time & date, pay your session fee and a little paperwork is all that is required to confirm your booking.
 I hope to see you soon!
STEP 2: PREP GUIDE
A day or so after your booking confirmation I will send you all the info you need to prepare for your photoshoot. If you have any questions in the meantime you can leave me a voicemail here.
STEP 3: ENJOY YOUR EXPERIENCE
I have photographed hundreds of babies and know how to make this a fun experience you will never forget, and create beautiful photographs of your baby. So breathe, relax and trust that I have everything under control.
STEP 4: THE BIG REVEAL
Your big reveal is THE best bit of the whole experience. This is where you get to see the moments we captured, and your portraits are projected larger than life in your own private film screening.  
STEP 5: DESIGN
​During your appointment, you will be able to select as few or as many portraits as you desire (be prepared to love most of them!) and then you choose how you'd like them to be displayed in your home. 
STEP 6: DISPLAY YOUR PHOTOS
Your finished artwork will then take between three and four weeks before it is ready for collection.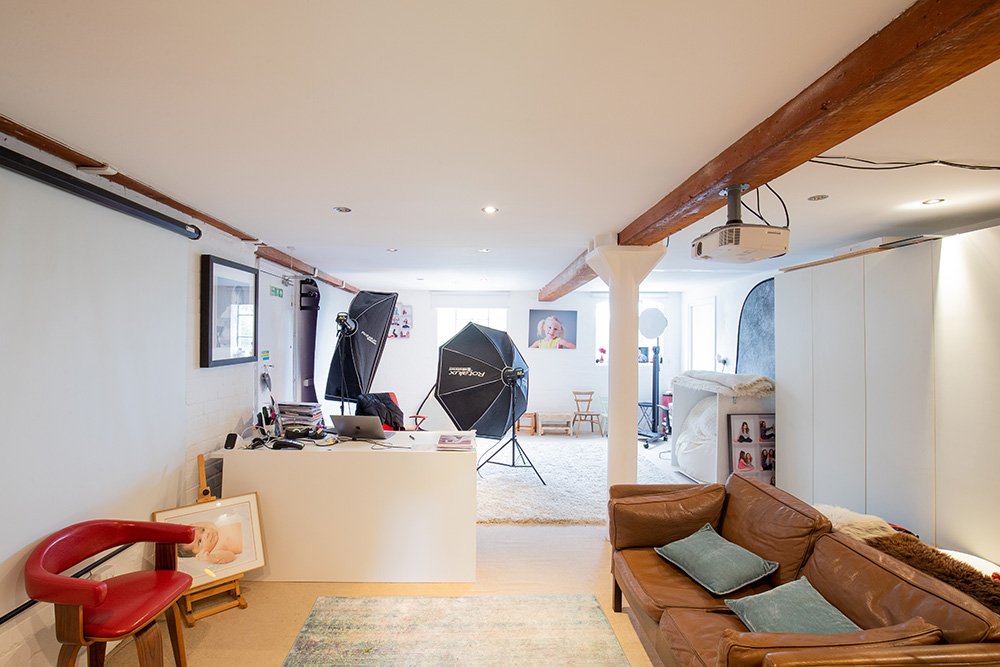 Every baby photoshoot takes place at my studio at Parndon Mill, Harlow, Essex.
This out-of-town riverside location has plenty of free parking, and the odd sheep or duck.
I operate on a by appointment basis to ensure that each family has the time they need with me.

PAST BABY MILESTONE PHOTOGRAPHY CLIENT
We did the Baby Club with Sue, and we are so happy we did! We treasure our family photos and have various ones on the wall which make us smile every day! Sue was good at capturing our boy's personality and his smile! I think the Baby Club was really good value for money, our final box with 30 prints in, is such good quality. Thank you Sue for such a lovely experience.
 So thankful to Sue for taking such lovely photos of my daughter, we had 3 sessions and couldn't believe how much your little one changes so much in that little time. We went to Sue for my son's photos too. We find the studio very warm, cosy & welcoming, despite my daughter not being in the mood one session but what a great photo we will show her when she's older. Lovely memories to hold on to. I recommend Sue Kennedy photography.
The pictures were beautiful. I love all the pictures she has taken, wish I could buy them all. It was worth every penny though and Sue was flexible enough to let us spread the payments.
All the presentation was done beautifully, I was very touched & got emotional every time with happy tears. Thank you Sue! I would definitely recommend!

GOT SOME BABY MILESTONE PHOTOGRAPHY
What if my baby is grumpy or won't settle?
As an experienced baby photographer of eighteen years, I have photographed hundreds of babies, so I simply adjust the type of photographs I capture depending on their mood. Many babies are shy initially, but this doesn't last long. And you are always close by.
When's the best time to book?
Is my baby too old for a milestone photography session?
How long will a milestone photoshoot last?
Allow 30 minutes, please.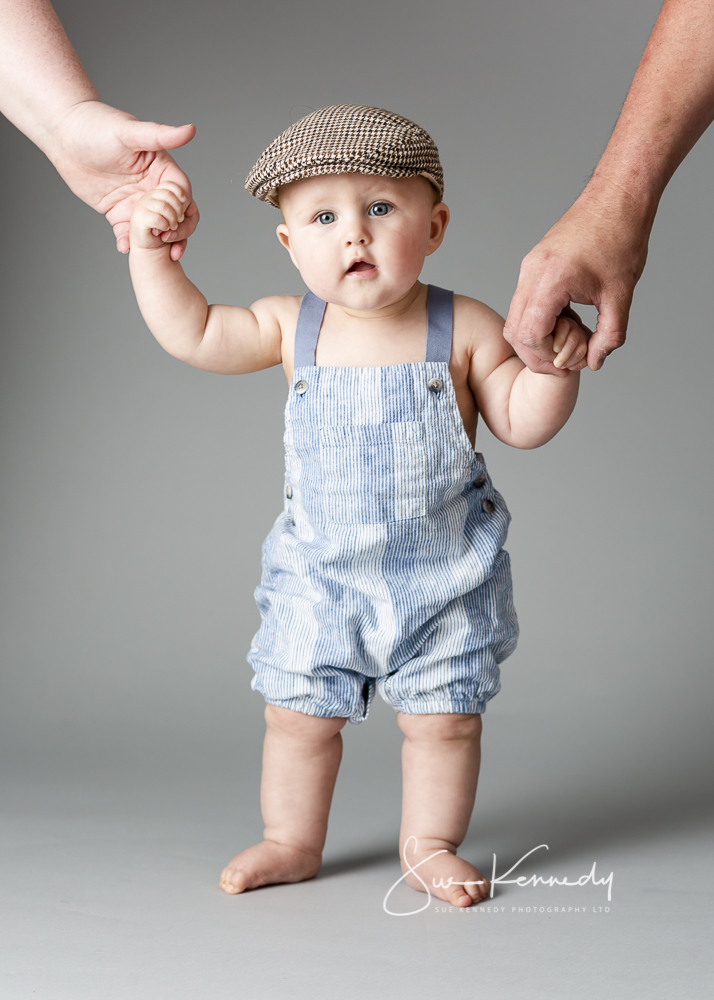 I'm only going to do this once, so what age is best?
When your baby can sit unaided is a popular time, or for their first birthday, there is really no right or wrong answer here.
In my blog – what age is best for baby photos? I go into more detail.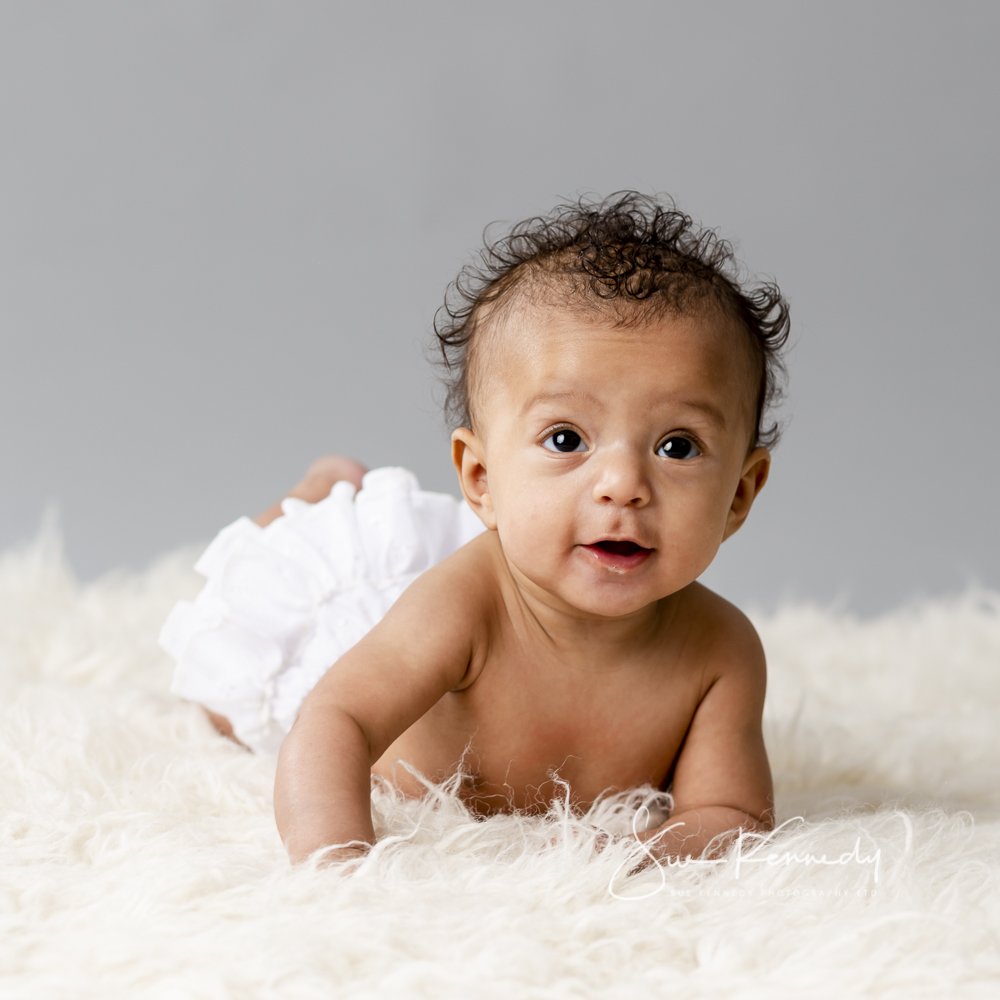 What happens if my baby needs a nappy change?
Please do. I have a changing mat or space for you to use your own. I have already factored this into my timings for baby photoshoots.
Do I have to be in the photos?
Hey, I understand and hear that a lot. As a parent myself I remember how I felt.
It's great if you can be in one of two. I like to take a snugly family portrait at my sessions. Although it's your baby that's the focus, they like to see you in the photos too as they get older.
What should baby wear for the photos?
For babies under 6 months old, I would generally just photograph in a nappy (with a cover: frilly knickers or shorts) or plain vest. Wear a plain top yourself, as some shots are of your baby on your shoulder or in Dad's hands.
For older babies, please do bring a spare outfit. Ideally something fairly plain without busy patterns (think Hawaiian shirt busy), and that fits baby well.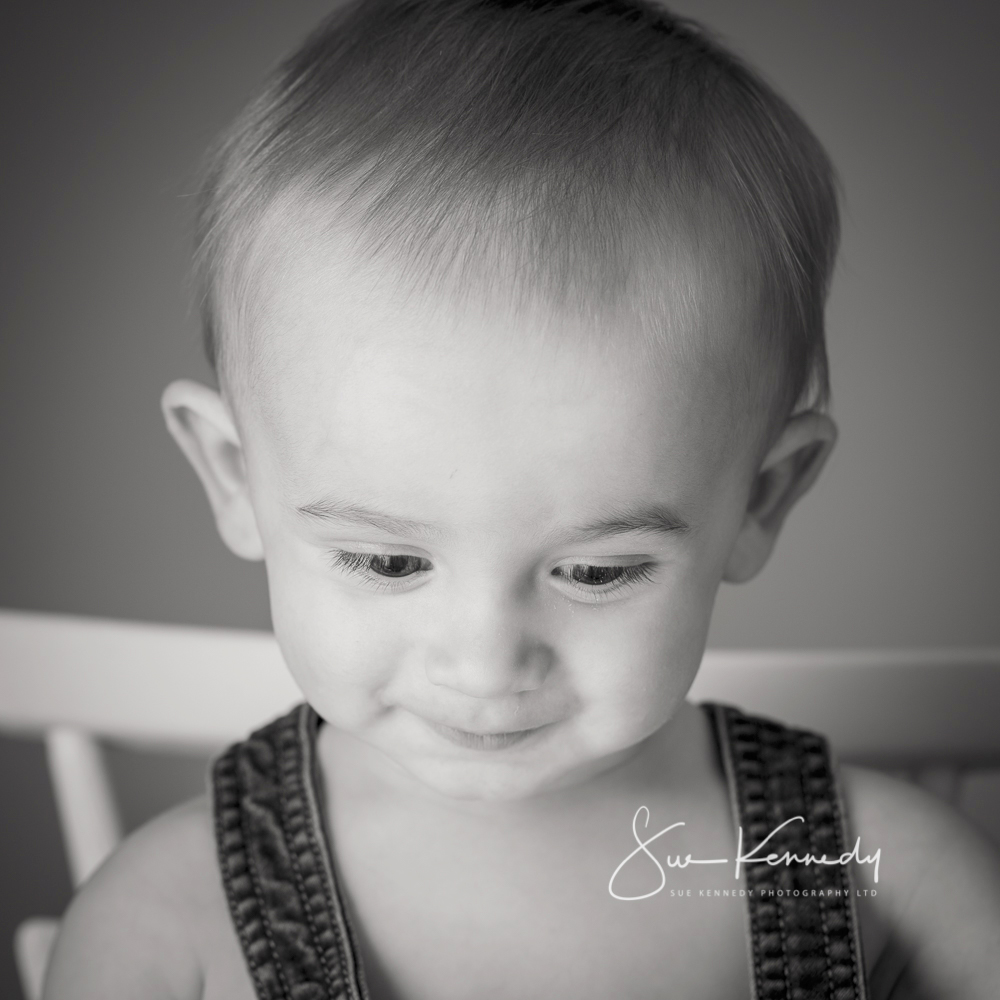 🧡 Hello, Seeing as this is probably the first time you've met me – albeit virtually, let me introduce myself!
I'm Sue, I specialise in baby photography. Babies are cute for a long time, and once their little characters emerge, it's a great time to start capturing memories.
So many parents don't realise how fast their baby's first year will fly by, and don't want to regret missing out.
Babies have many amazing faces, and capturing their thoughtful, cheeky and smiley faces is an absolute joy. Sometimes you get all of those in one portrait session!
I've worked with babies and toddlers and their families for nearly 18 years, even before I had my own daughter (currently 13 going on 15), so I have experienced it all 🙂
I love watching them grow, and every milestone session is as unique as the baby I am photographing.
I simply love creating simple, natural, characterful baby photos for families and look forward to working with you to create beautiful, timeless portraits you're proud to share and will enjoy for a long time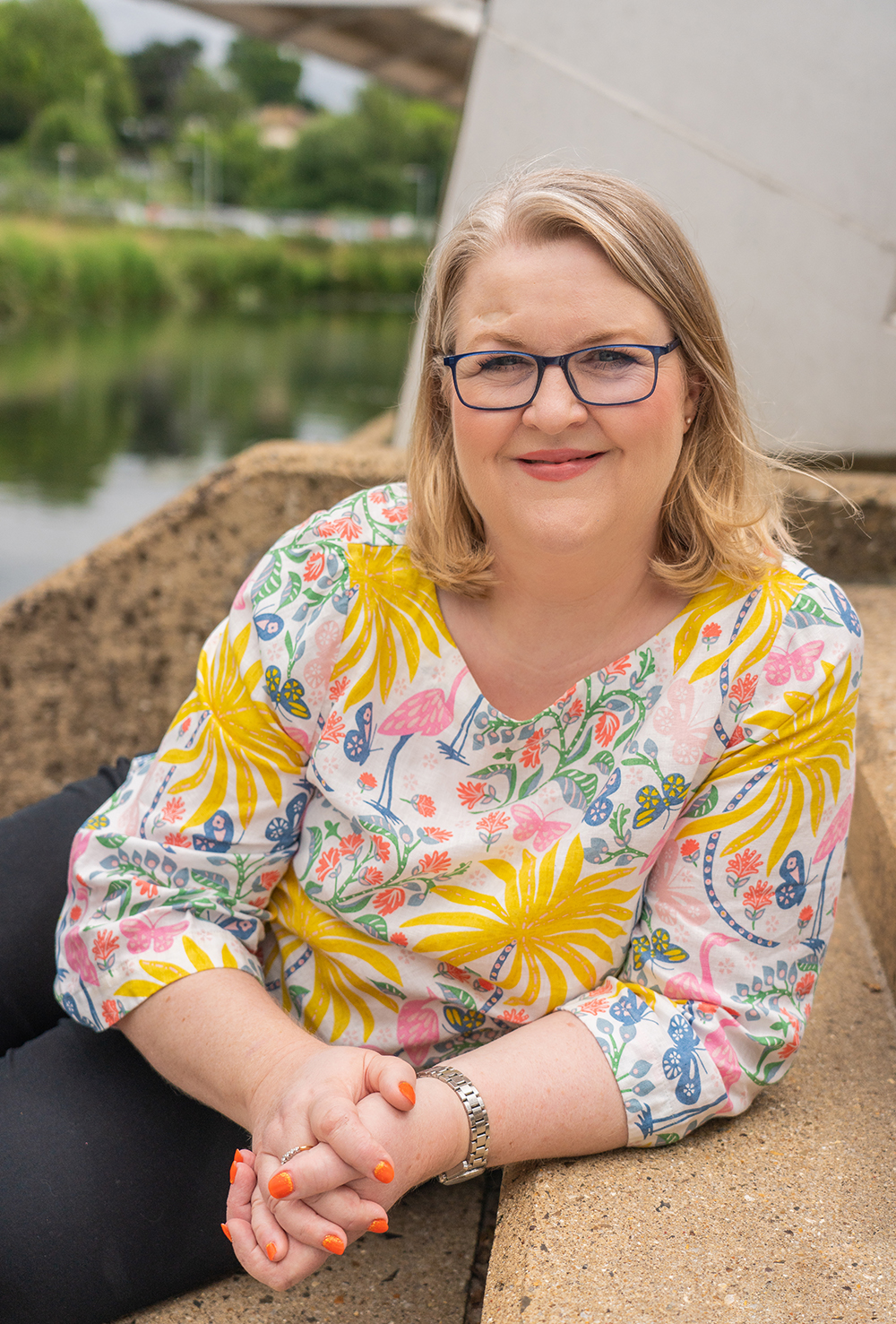 let's start a conversation!
Sue Kennedy Photography Ltd
Parndon Mill, Parndon Mill Lane
Harlow
Essex CM20 2HP UK
Not ready to book, but happy to stay in touch?
Pop your details below.