CAPTURING YOUR BABY'S FIRST YEAR MILESTONES
Cherish your baby's first year with our baby milestone plan offering three portrait sessions at 0-4 months old, sitting and first birthday.
Three unique portrait session on three separate occasions during your baby's first year at a special package price of £189, effortlessly documenting your baby's growth and first-year memories in one convenient package.
While a single session may capture a moment, a complete first-year 'watch me grow' plan is a story.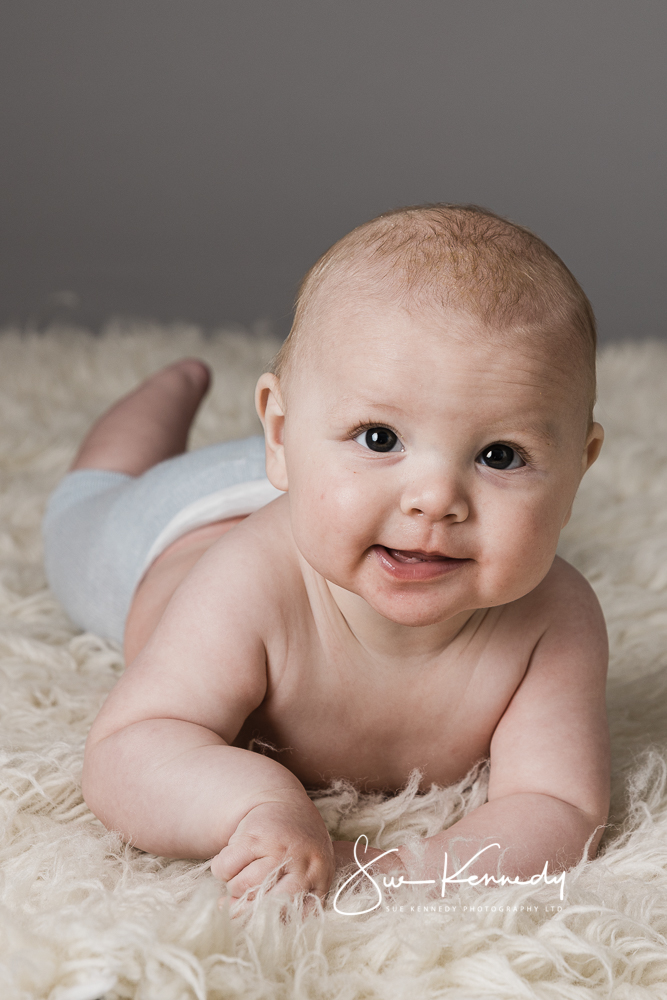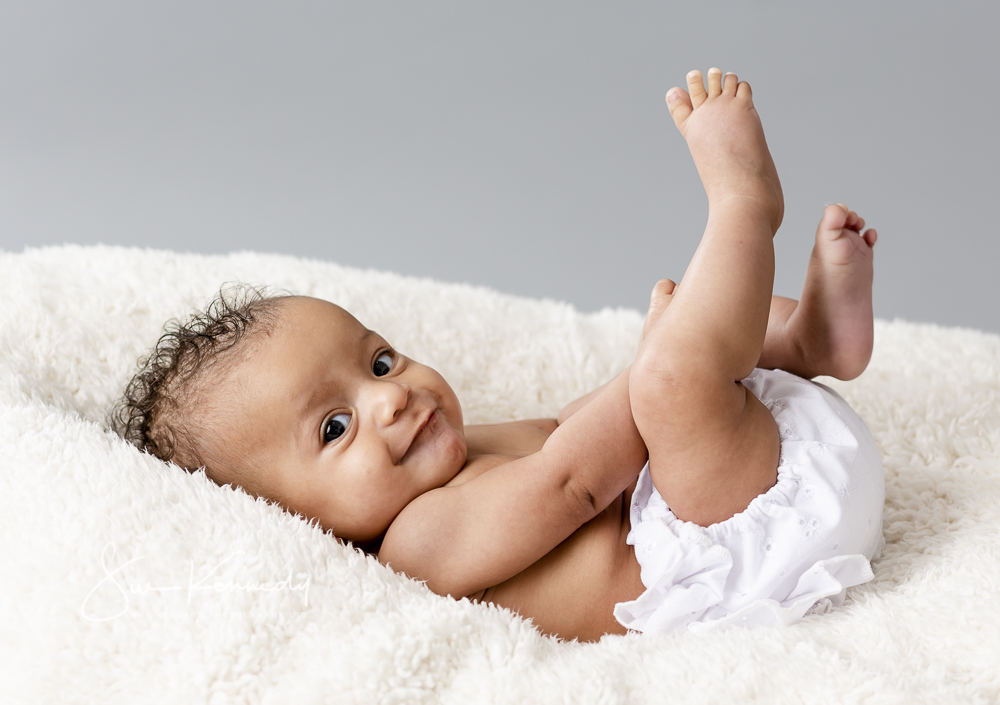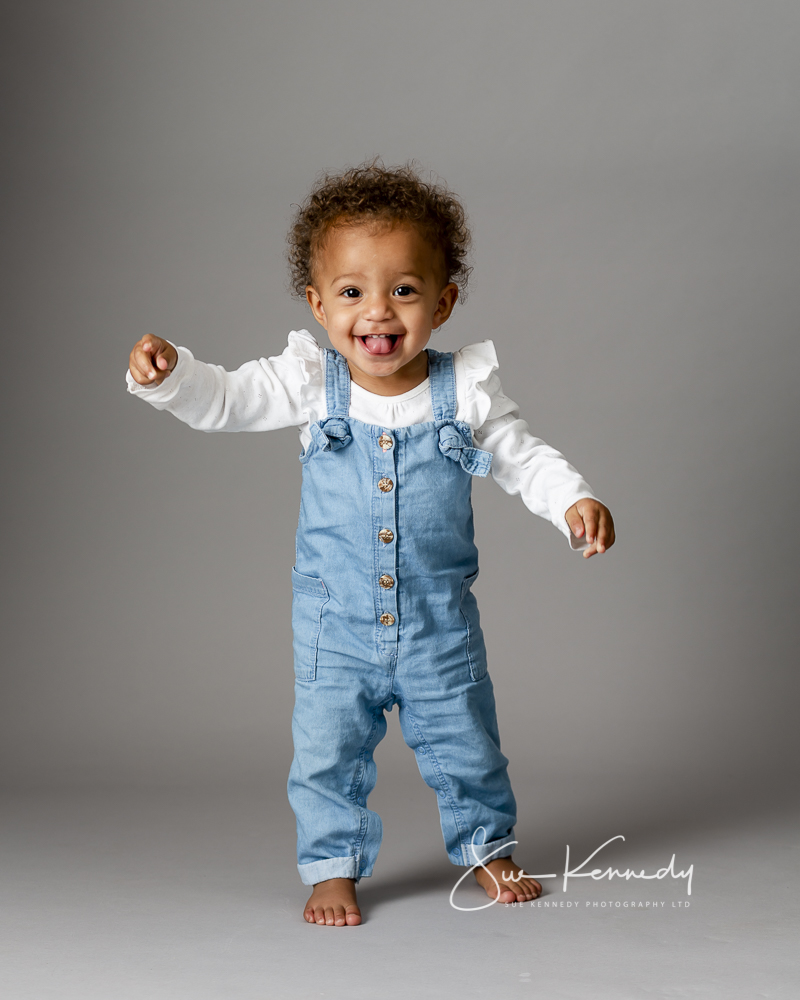 Babies grow so fast, don't they?
The first year of a baby's life is full of incredible growth and development.
Our Baby Milestone Plan enables you to capture significant milestones such as their first smile, first crawl and steps over three individual portrait sessions spaced out over your baby's first year.
Preserve the precious moments of your baby's first year and literally watch them grow!
THREE 1 HOUR PHOTOSHOOTS
Typically at 4, 8 and 12 months old at my Harlow studio.
A complimentary 7X5" PRINT
"
We did the baby bundle with Sue and we are so happy that we did! 
We treasure our family photos and have various ones on the wall which make us smile every day!

Sue was so good at capturing our boy's personality and his smile! I think the baby bundle was really good value for money, our final box with the 30 prints in is such good quality!
Thank you Sue for such a lovely experience xx"
– Claire Welberry
LET'S TALK
A quick call is the quickest way to go over all the details and answer any questions you have about working together.
Call us on 01279 433392.
Ready to get it all sorted? Use the link below to purchase and choose your first portrait session date later.
ENJOY
Your photo session. We have photographed lots of baby's and know how to make beautiful portraits of this new chapter of your family, that your child/ren will enjoy looking back on. 
We'll send you a prep guide, a few days before, but happy to answer questions.
Please allow up to an hour, and there is plenty of free parking available at my Studio at Parndon Mill, Harlow, Essex, CM20 2HP.
DISPLAY
About a week after your photo session you'll return to the studio to view your finished photographs.
Before the first appointment, think about what you would like to do with your chosen photographs, and measure your walls.
Most families opt to build a portrait box across all three sessions, but you can order individual printed products after each session too.
Beautiful Baby Photos Included: 
THREE 1 HOUR PHOTO SESSION
Your £189 baby's first year package includes all three portrait sessions and is tailored to your baby's development stage and customised to your family. BONUS: a 7×5-inch print from each session. 
PRIVATE VIEWING OF YOUR PHOTOS
There is no obligation to choose anything additional other than what you love on the day of your big reveal a few days after your portrait session.
INCLUDE OTHER CHILDREN AND/OR YOUR PARTNER
WALL ART AND PORTRAIT BOXES
TELL YOUR VISUAL STORY
In reality, you are probably going to love more than one, and that's why my most popular option is to build a portrait box over all three portrait sessions so you know exactly what the cost will be for the year. Many clients also top up with wall art. This combination of the two, perfect for when it's just too hard to choose. These options come with matching digital files to make sharing with family easier.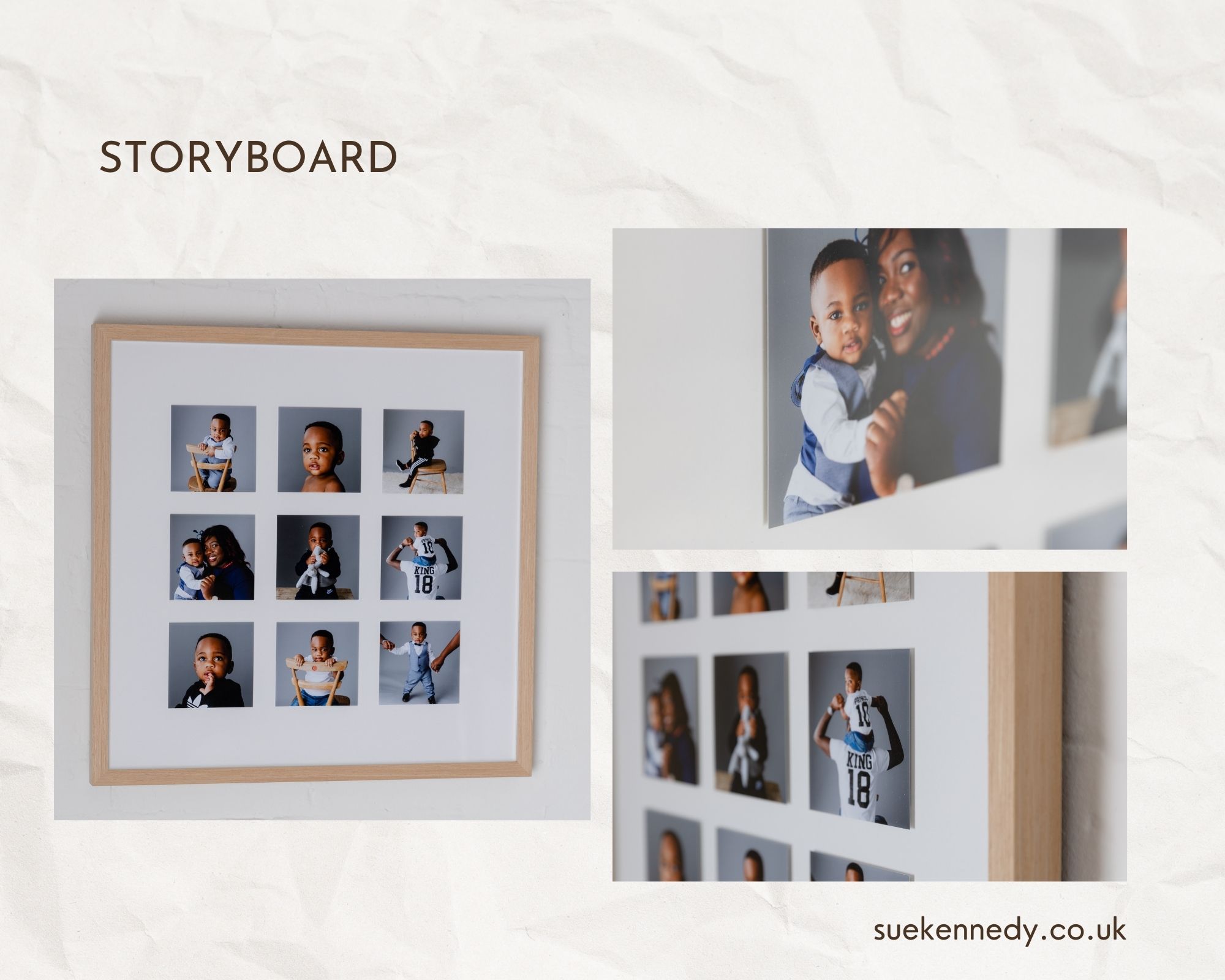 Art For Your Walls
Display your favourite photo or a collection of photos on your wall at home. Hanging portraits at home is a great way to show your children how important they are to you, and they become more of a talking point as they grow.
Prices start from £450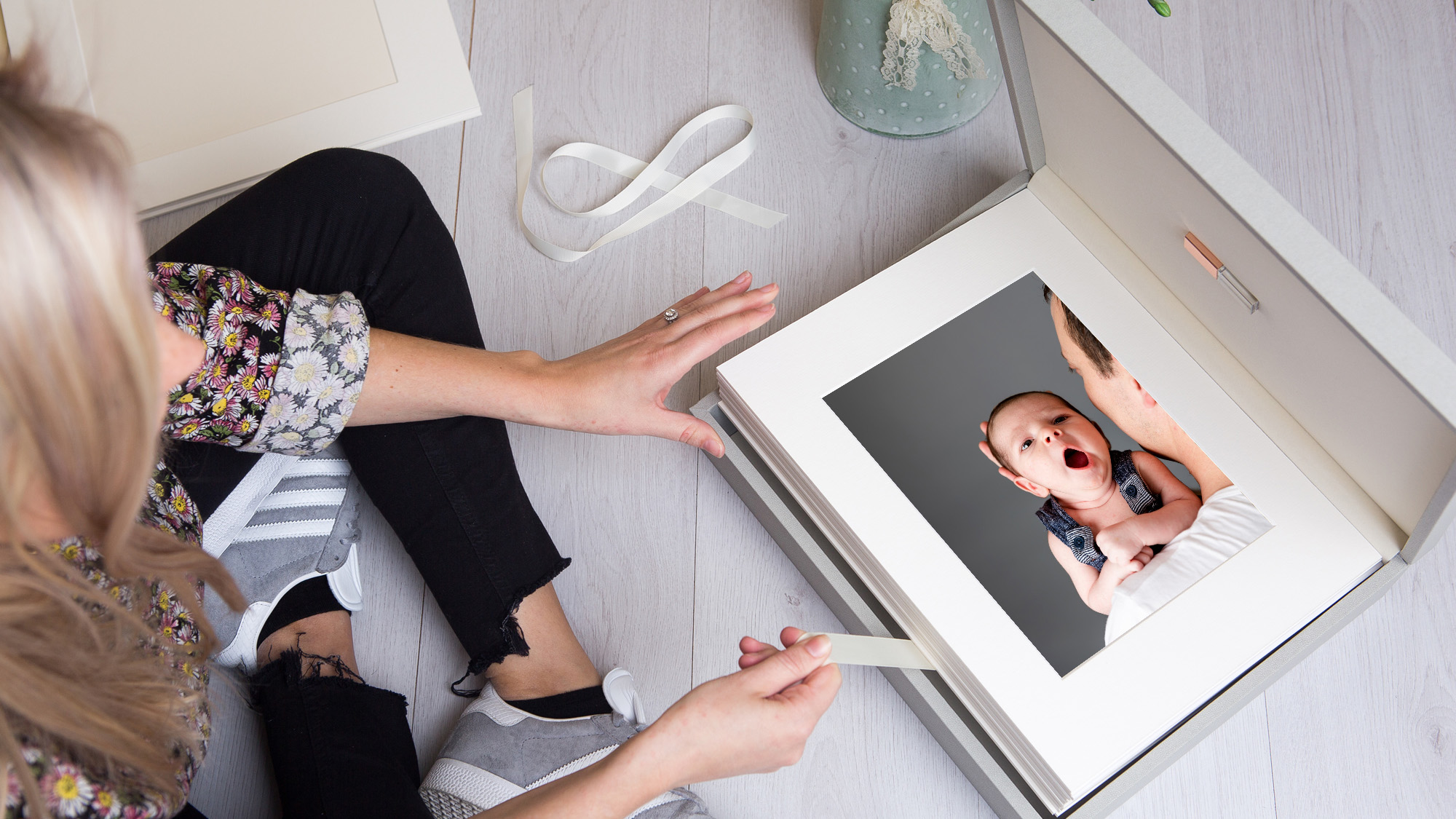 Portrait Box
Perfect for those who want individually mounted prints. Simply choose your favourite 10, 20 or 30 photographs for display in your portrait box and build it up over all three sessions.
Prices start from £1,275 for a collection of 15 prints – typically split across all three sessions with the cost also split into three payments (£425 x 3). Additional photos can be added at £85 e.a.
An optional matching digital file upgrade is also available at an additional cost of £25 e.a.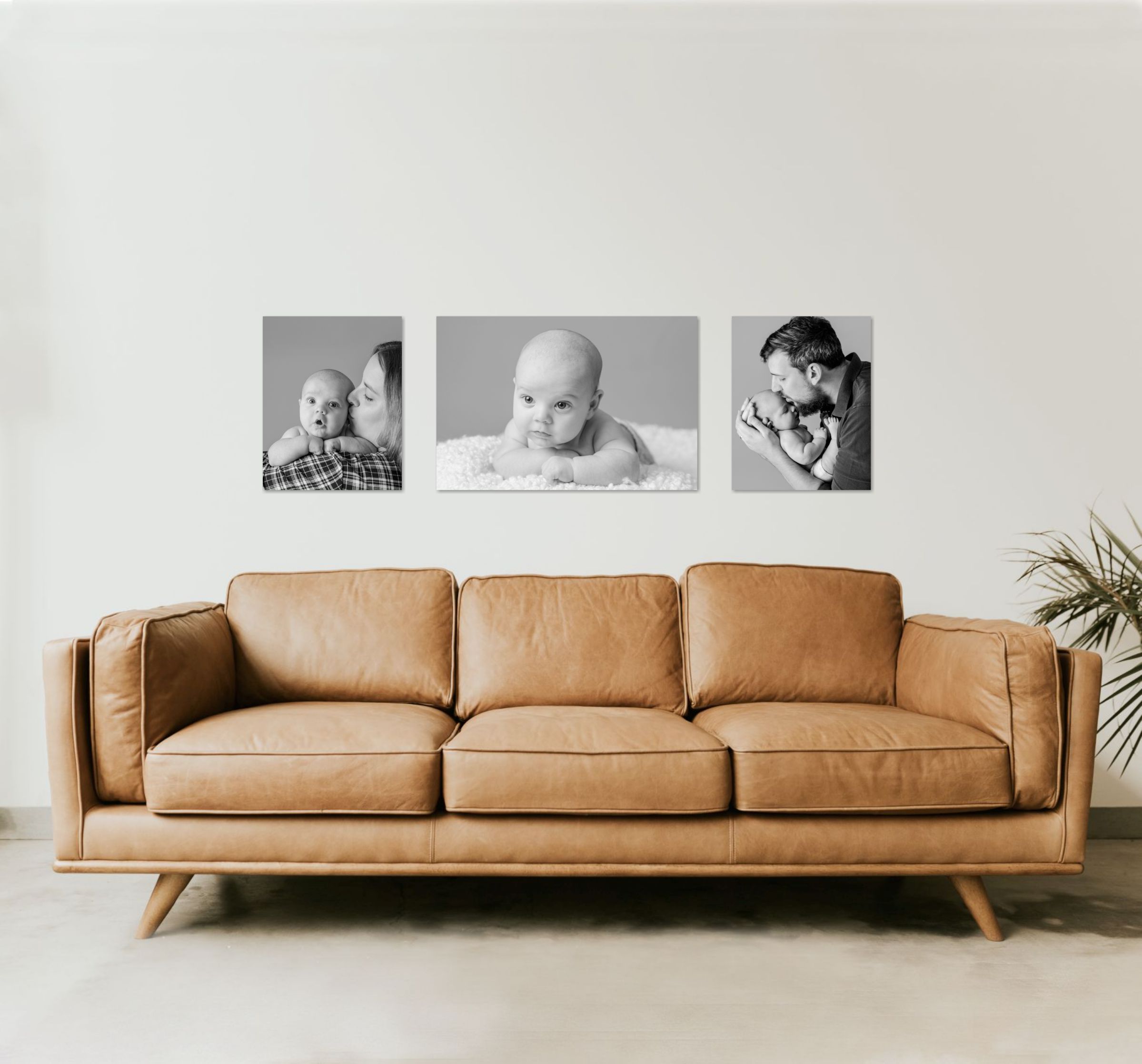 Payment Plan
If you would like to build a portrait box from all three sessions, then you have the option to split the cost into three instalments or make a monthly payment.
Baby Photography Experience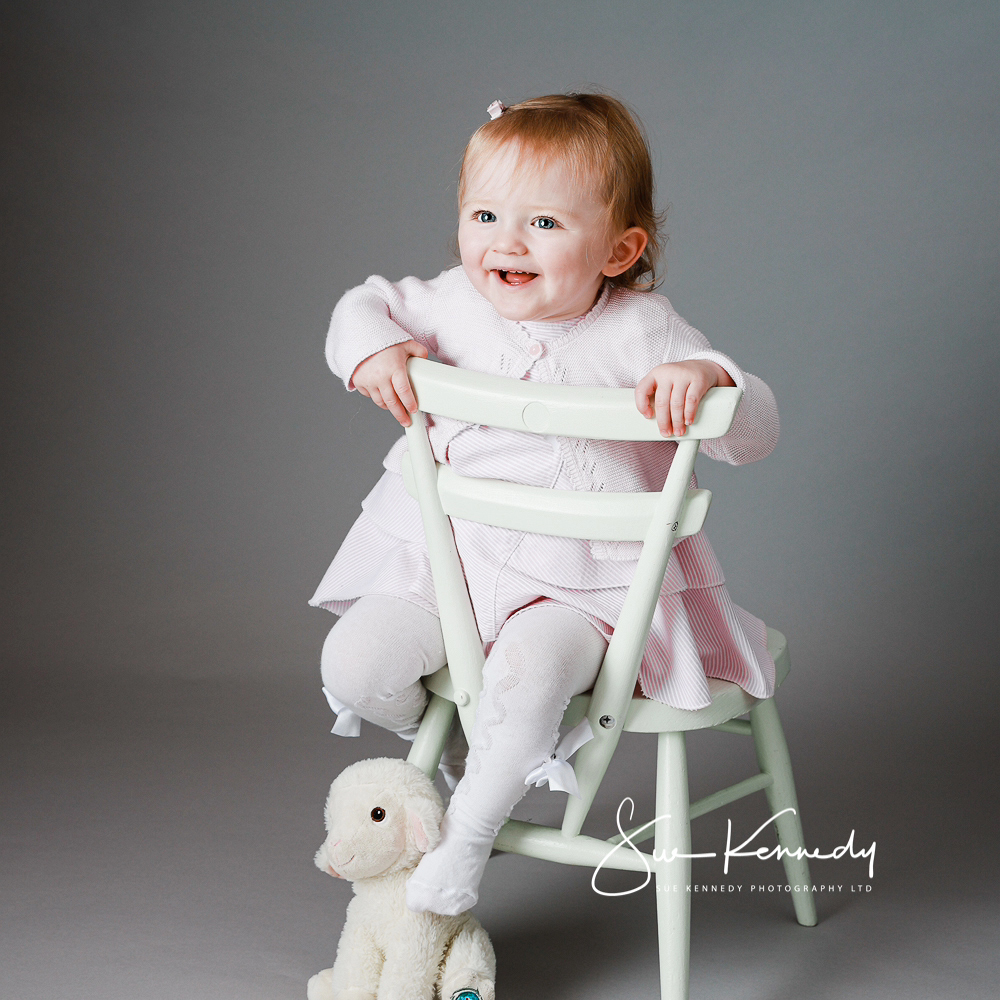 When's the best time to book first portrait session?
When you are ready is the short answer.
I can capture the lying/snuggling baby in arms phase anytime between 0-4 months.
If you would like to capture the very early days, then booking ahead whilst you are pregnant is wise, particularly if you want a Saturday appointment.
Some parents prefer to wait until their baby is 4 months old to start capturing their baby's character.
How long will a baby photography session last?
Allow a good hour.
Our style of baby photography is very natural and unposed.  We prefer to capture babies at their most natural – awake or asleep – showing their size, their teeny details, and their newness.
For older baby photography we work to their current development stage, capturing their character & personality.
When should baby photos be taken?
On this plan – at 4 monthly intervals. Typically when your baby is pushing up, sitting and standing.
What happens if my baby needs a nappy change?
Please do. We have a changing mat or space for you to use your own. We have already factored this into our timings for portrait sessions.
How should I dress my baby for the photos?
The answer varies depending on their age, and we will send you a prep guide to assist you with clothing choices. A simple vest or body suits work well for the first session, just leave the baby equivalent of the Hawaiian shirt at home.
WHERE IS THE PHOTO STUDIO LOCATED?
Parndon Mill, Harlow, Essex
Nestled on the outskirts of Harlow, in open countryside, our studio location is a surprise and delight to many. With plenty of parking, and a beautiful riverside location making for a relaxing place to visit for your portrait photoshoot.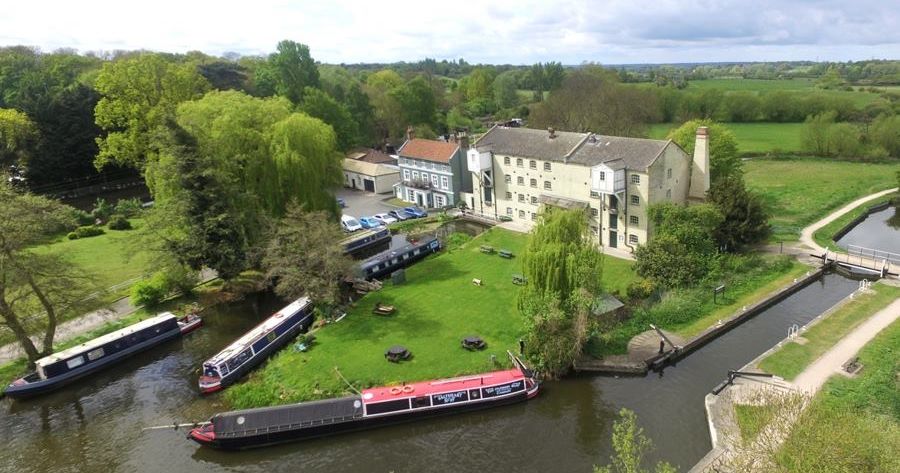 Had another really good newborn session with Sue. She was great with the baby and allowing us to tend to him when needed. And also really good with our whirlwind 2 year old running around.
Thank You to Sue for our beautiful photos for the newborn photo session that captured the moment perfectly. highly recommend!
I will treasure these photos forever.
The pictures were beautiful. I love all the pictures she has taken, wish I could buy them all. It was worth every penny though and Sue was flexible enough to let us spread the payments.
All the presentation was done beautifully, I was very touched & got emotional every time with happy tears. Thank you Sue! I would definitely recommend!
"I'm Sue & I'm thrilled about helping you to tell your family's story in photographs."
I absolutely believe you should print the photos that you love, hang them on the wall and enjoy them everyday.
Someone once said to me "digitals are temporary, prints are generational." And it's true.
I offer both options and will guide you through each step of your portrait experience, at my studio in Harlow, Essex.  
As a mother myself, I know how priceless those framed photos of my daughter are. And I want the same for you.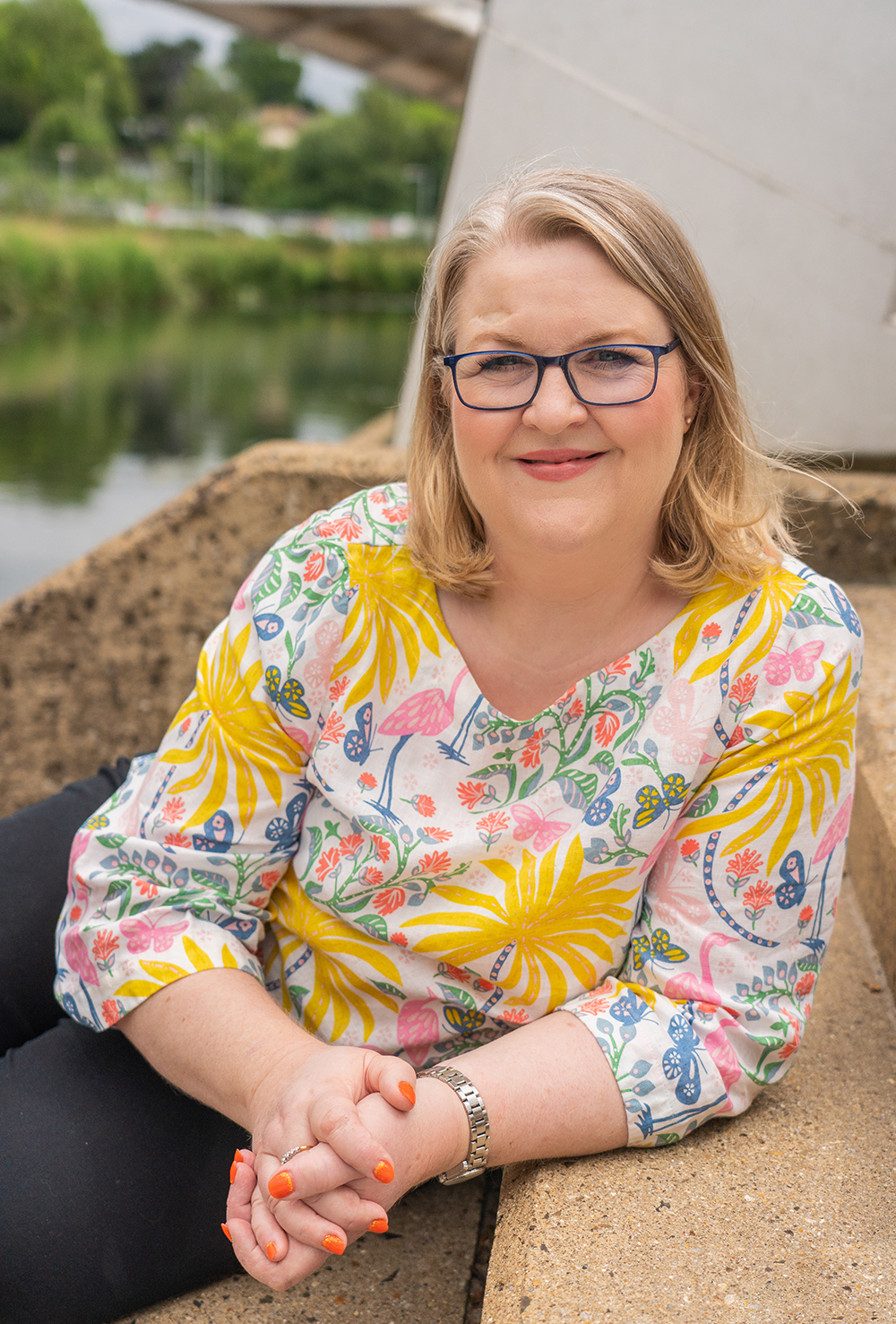 DON'T FORGET TO DOWNLOAD MY
Insider Guide to a Successful Family Photo Session.
After many years of photographing families, I going to share the key factors that contribute to a successful family photo session with you. 
Leave your details in the boxes, and I'll email it straight over.