In this episode, I explore the advantages and disadvantages of using a smartphone camera for photographs as opposed to planning a portrait session with a professional photographer.
Listen below or by following Photographs in a Shoebox on your preferred podcast player.
Listen Here:
Read the Podcast Transcript:
Should your choose between smartphone pictures and professional photos, or is a mix of both OK too?
I'm recording this after the celebrations for the Queen's Platinum Jubilee, which gave us countless anecdotes, unseen footage and photographs of the Queen from her early years to the present day.
Many professional photographers have taken her official portrait, and many more attending the celebration captured their own images with smartphone photography. It's quite the archive.
It was wonderful to see the attention given to memory keeping, and of course, this was in the days before smartphone cameras made it very easy & accessible.
Should Smartphone Picture replace Professional Photos?
Smartphone pictures have their place in recording our everyday life, and we always have our mobile phones with us, and we all take advantage of their convenience to capture images. The phone's software does a great job, and is good enough for most people, making it very accessible.
The archive of footage and amazing images shared over the weekend showed the quality of using professional cameras for capturing images, and the importance of retaining those memories for future generations to enjoy. But your mobile phone has a role to play too.

Let's look at the main advantages and disadvantages of smartphone pictures -v- professional photos.
With a smartphone. It gets done. it's the camera that's always with you. With professional photos it's easy to put off, people are always waiting for something. That perfect time.
With professional photos – everyone's in. No one is missing because they are taking the photo. The experience is positive for the whole family as they enjoy each other's company, the interaction, and the funny moments all captured by someone who knows how to do that well. It's not the camera – it's the 3 inches behind it that create wonderful memories for you. With smartphones, you either ask a passerby to take a photo or set the timer. Results vary 🙂
With pro photos – because you have made that investment, and if you have chosen your studio well, you'll end up with photos on the wall. So you get to enjoy them every day – studies have shown that is great for your kid's wellbeing. They feel cared for, and part of a family. I know a lot of smartphone photos never make it into print, let alone into a frame on the wall.
Smartphones are fantastic for capturing the everyday – which is important from both a social history perspective and also telling your family's story, whereas a professional photoshoot no matter how relaxed in styling will only happen a few times in your lifetime.
Today's smartphones are capable of a good image, but cannot be of the same quality as a big camera. they simply do not have the processing power. For most people, this does not matter as they are not concerned with quality just memories.
Memories become more precious with time

I always say your memories become more precious with time, but I say that with the benefit of hindsight. Having now lost both my parents, I regret some of the missed opportunities, the lack of photos – ours are limited to holidays, Christmas and Weddings, but then smartphones weren't around during my childhood. Just film and the quality is shocking 🙂
I do have photos, but very few compared to what my daughter has. It's only with the passing of time that it hits you more, and that's really hard to explain to someone who hasn't been there yet.
Print the photographs you love
My worry with digital & it's easy, but it doesn't mean it will last forever. Take steps to preserve memories by printing the photos you love just in case the technology fails you. You'll get better images with the right camera system, but great photos can be created on both camera phones and digital cameras. The image quality will be different.
I have met too many people grieving a lost phone/computer with all the baby pics on and nothing printed. It's not a great feeling, and they can't be replaced.
Let me know your thoughts on this episode @photographsinashoebox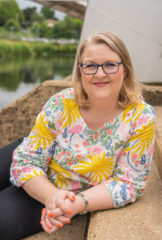 About Your Podcast Host – Sue Kennedy of Sue Kennedy Photography
Sue is a professional portrait photographer based in Harlow, Essex and she specialises in baby, child and family portraiture. Being a parent, she understands just how special your child is to you and her aim is to produce a collection of images that are natural and meaningful to your family. No two moments are ever the same and she wants to perfectly capture those early precious memories and the natural character of your child.
For more information please call 01279 433392, or visit the Sue Kennedy Photography website.
---
Don't forget to subscribe wherever you are listening, so you never miss an episode, and share it with your friends.

---