The Grandparent Questionnaire
Wouldn't it be fun to interview the Grandparents, and keep a written or recorded record of their answers? The grandparent questionnaire is a series of questions you can ask with the goal of capturing their memories of days gone by, which I am sure they love to talk about anyway?! This just gives it a little bit of structure … well, in theory, it won't stop them going off on a tangent, but that's part of the fun.
I wish I could sit down with mine, and find out what they enjoyed doing as a child, their dreams and ambitions versus what they actually went on to do. Their story would bring another dimension to their portrait photograph. I bet they knew how to have fun?!
This episode explores this idea, and I'd love to know if you do the Grandparent Questionnaire if there were any funny stories or surprises in there. Drop me a line here.
---
About your Host – Sue Kennedy
I've been photographing, bumps, babies & families here in Harlow, Essex since 2004.
If you are local to me and want to book your own portrait experience, then read on!
I know you don't want to spend forever sorting through all the different packages and options out there.
You just want to find someone who's experienced and will be able to deliver great photos that look and feel like your family without a lot of fuss & fluff.
I specialise in babies of all ages, so there's no pressure from me to come in when your baby is brand new. Babies are cute for a long time, and once their little characters emerge it's a great time to start capturing memories.
I have built my whole business around making this whole process extremely easy for you and creating beautiful photographs I know you'll love. To find out more visit: suekennedy.co.uk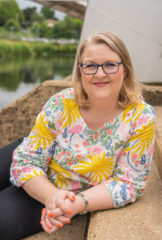 About Your Podcast Host – Sue Kennedy of Sue Kennedy Photography
Sue is a professional portrait photographer based in Harlow, Essex and she specialises in baby, child and family portraiture. Being a parent, she understands just how special your child is to you and her aim is to produce a collection of images that are natural and meaningful to your family. No two moments are ever the same and she wants to perfectly capture those early precious memories and the natural character of your child.
For more information please call 01279 433392, or visit the Sue Kennedy Photography website.
---
Don't forget to subscribe wherever you are listening, so you never miss an episode, and share it with your friends.

---
---
Episode Transcription of the Grandparent Questionnaire
Sue: (00:04)
Hello, and welcome to the Photographs in a Shoebox Podcast with me, Sue Kennedy. This podcast is all about helping and inspiring you to tell your family's story in pictures.
Sue: (00:22)
So in today's episode, I wanted to talk about a concept called the Grandparents Questionnaire. So it's based basically on asking the older generation to record their memories, maybe through asking a series of questions, or you can simply have them write down their memoirs if you like. It's going to be better than going through a box of old photographs, wondering who the heck all these people are. I've got photographs where they were clearly on holiday and they've taken a photograph of everybody that was staying at the B&B. No idea. I'm sure there was fun times had, but I've no idea what those were. And also a lot of the older generation didn't have many photographs taken. So there often isn't a timeline of their childhood in photographs. So the only way of knowing what they got up to, for want of a better phrase, is to write those memories down, to ask the stories.
Sue: (01:30)
You could video them. You could ask them to write them down, or you could write them down yourself. I would ideally do a bit of both because as you know, I love to have these memories to look back on and I'm quite passionate that they are archived and backed up. And if you have both forms, then you've got two backups, I guess. So when I was researching this, there was some examples of where grandparents had written letters to young grandchildren to open when they were older or at the point when they got married, which I thought was an absolutely lovely idea. So getting back to the Grandparent Questionnaire, you can make it as long or as short as you would like. I was thinking about questions I'd like to know the answers to.
Sue: (02:22)
So for example, what was it like at school when you were growing up? What did you do for fun as a teenager, the best holiday ever, how did you meet your spouse? There's always some interesting stories there, I think. And what were your jobs? I think the jobs that our children will be doing probably haven't been invented yet. And you'll probably find there's jobs that your grandparents did that have died out, but they're still part of what makes us who we are. So, and I think as well, they've got some wise words to share with us. You can ask them what they would say to the younger generation now, little pieces of advice that might be useful.
Sue: (03:14)
But certainly, if you do a Google search for the phrase 'Grandparent Questionnaire', you will go down a rabbit hole of lots of different resources to spark ideas of what you might like to ask. I would include some fun ones, but maybe that's just me. You might be surprised by the answers, that the world has changed in some respects, but not in others. So I think it's also, it's not something just for grandparents. I interviewed my daughter probably about five years ago on her birthday. And we took a video of me asking the questions and her responses, and it's fun to watch back. She's not so impressed now, she's a preteen, but anyway, I'm sure when she's older, she will appreciate it. We're just not there yet.
Sue: (04:09)
And it's also one of the reasons that I journal regularly because you could do this questionnaire thing for you as parents, write down things. For me, that's the journal because I know I'll forget certain things or I might have a rose-tinted view of it, whereas if I've got the photograph and the memory, or a few words of the memory written down and that's less likely to happen. And I guess the little reminders that we get on our phone that say five years ago this happened, and up flashes a photograph, that helps us whereas our grandparent's generation didn't have anything like that. They are literally just relying on the grey matter, their memories.
Sue: (04:59)
So anyway, that's it for today. Thank you for joining me. Don't forget to subscribe, wherever you are listening so that you never miss an episode. So until next week, bye for now.