Types of Memories: Wax Sculptures
Today we are talking about types of memories – specifically wax figures. A visit to Madame Tussauds surprised me with a piece of history about how wax was used to capture a person's likeness before photography was invented.
You can read more about Madame Tussaud and the history of wax works here.
---
About your Host – Sue Kennedy
I've been photographing, bumps, babies & families here in Harlow, Essex since 2004.
If you are local to me and want to book your own portrait experience, then read on!
I know you don't want to spend forever sorting through all the different packages and options out there.
You just want to find someone who's experienced and will be able to deliver great photos that look and feel like your family without a lot of fuss & fluff.
I specialise in babies of all ages, so there's no pressure from me to come in when your baby is brand new. Babies are cute for a long time, and once their little characters emerge it's a great time to start capturing memories.
I have built my whole business around making this whole process extremely easy for you and creating beautiful photographs I know you'll love.
To get started click the link here, and book a 15-minute call with me.
It's definitely the fastest and easier way to answer all of your questions and to start talking about the next steps.
I can't wait to hear more about you & your family.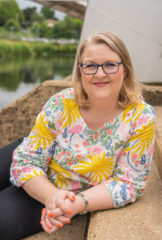 About Your Podcast Host – Sue Kennedy of Sue Kennedy Photography
Sue is a professional portrait photographer based in Harlow, Essex and she specialises in baby, child and family portraiture. Being a parent, she understands just how special your child is to you and her aim is to produce a collection of images that are natural and meaningful to your family. No two moments are ever the same and she wants to perfectly capture those early precious memories and the natural character of your child.
For more information please call 01279 433392, or visit the Sue Kennedy Photography website.
---
Don't forget to subscribe wherever you are listening, so you never miss an episode, and share it with your friends.

---
---
Transcription for Episode 009 Types of Memories
Sue Kennedy: (00:04)
Hello and welcome to The Photographs in the Shoe Box Podcast with me, Sue Kennedy. This podcast is all about helping and inspiring you to tell your family story in pictures.
Sue Kennedy: (00:19)
Today, we're talking about types of memories and wax. So bear with me whilst I explain my thinking. So (for) the end of term, or the end of the summer holidays, we decided to take our daughter to Madame Tussauds, which is the waxworks museum in London that is world-famous. And obviously has wax works of lots of famous people, most of them are still living. There was a little section that was a bit more historical, but by and large, it's about going and meeting personalities that we see in the papers and in different magazines, our contemporaries if you like. So it was interesting when we got to the history section, actually, because I had never thought of the history of Madame Tussauds. And so I was a little bit taken aback. I noticed a sign that said, the first paparazzo. And then it went on to say, imagine not knowing what the Queen or Kylie looked like.
Sue Kennedy: (01:28)
So before photography, Madame Tussaud's models were highly prized, were a highly prized visual resource. So this bit is, you know, not sure I like to think about this too much, but she started her craft by making death masks so that people could remember how an ancestor looked. So once they had passed, the wax mould was put on to them, and then from that, they created the, I don't know if it's a caricature or a model of that person's face. And that was how people knew how somebody had looked. She must have also been a great marketeer because ultimately she pivoted the business and turned it more into a museum and focused on the most talked about people of her day. So a bit like today's press, she was telling the story of the living, which I'd never thought of it like that.
Sue Kennedy: (02:39)
I just thought that people, you knew how people looked from the past through paintings or drawings of them, because photography wasn't around then. But it appears there was the option to have a waxwork made of your ancestor. So it makes sense, wax is 3D and certainly, the models that we saw were very lifelike. It was a little bit spooky in that sense. I've never met any of these people in person so I have nothing to compare it to, but they certainly fooled me. I mean, a couple of them you looked at them and you thought they were suddenly going to start moving, but obviously, they didn't.
Sue Kennedy: (03:22)
So it was a really good fun day out, but I hadn't expected this aspect of creating memories to appear. So I think it's interesting, isn't it? Because often when your children are small, when they're babies, you might have their hand or feet cast, and then you have this plaster cast mould of these tiny little feet as a memory so that you can recall that time once they're going through shoes like there's no tomorrow. You can go, "once your feet were so tiny" and I didn't have to buy shoes for you so it was much cheaper, but anyway.
Sue Kennedy: (04:08)
It's just another form of memory isn't it, to have. And it was just intriguing, really, fascinating. And I've spoken to a few people about it since, and I don't think anyone realised the roots of the Madame Tussauds building or museum. So it was good. It was just an interesting random factor to discover.
Sue Kennedy: (04:36)
So memories can come in many forms. So I know that obviously, as a photographer, I focus on photography as a type of memory that you keep safe and record, but obviously, it can be in many forms. It can be an artwork that your child has drawn the first time they send you a, "I love you mummy" notes, and you keep that. The tablecloth that you always did the craft projects on, that you can't bear to throw away, even though it's no good for anything. And children have their memories and their blankets that they've had since a baby, that are falling apart, but they still want to go to sleep with them 10, 12 years down the line. And we can't bear to take that away from them. And why should we? It's part of the journey of life, isn't it?
Sue Kennedy: (05:35)
So, anyway, thank you for joining me today. Until next week, bye for now. And don't forget to subscribe wherever you are listening so that you never miss an episode.