Preserving Summer Holiday Memories – My Approach
Some of our most treasured memories are made during our Summer holidays, whether you are the parent or the child, so in today's podcast, I talk about how I record mine.
About your Host – Sue Kennedy
I've been photographing, bumps, babies & families here in Harlow, Essex since 2004.
If you are local to me and want to book your own portrait experience, then read on!
I know you don't want to spend forever sorting through all the different packages and options out there.
You just want to find someone who's experienced and will be able to deliver great photos that look and feel like your family without a lot of fuss & fluff.
I specialise in babies of all ages, so there's no pressure from me to come in when your baby is brand new. Babies are cute for a long time, and once their little characters emerge it's a great time to start capturing memories.
I have built my whole business around making this whole process extremely easy for you and creating beautiful photographs I know you'll love.
To get started click the link here, and book a 15-minute call with me.
It's definitely the fastest and easier way to answer all of your questions and to start talking about the next steps.
I can't wait to hear more about you & your family.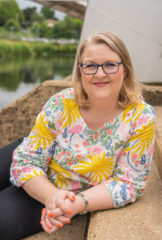 About Your Podcast Host – Sue Kennedy of Sue Kennedy Photography
Sue is a professional portrait photographer based in Harlow, Essex and she specialises in baby, child and family portraiture. Being a parent, she understands just how special your child is to you and her aim is to produce a collection of images that are natural and meaningful to your family. No two moments are ever the same and she wants to perfectly capture those early precious memories and the natural character of your child.
For more information please call 01279 433392, or visit the Sue Kennedy Photography website.
---
Don't forget to subscribe wherever you are listening, so you never miss an episode, and share it with your friends.

---
Episode Transcription of Preserving Summer Holiday memories
Sue Kennedy: (00:04)
Hello, and welcome to Photographs in a Shoebox Podcast with me, Sue Kennedy. This podcast is all about helping and inspiring you to tell your family's story in pictures.
Sue Kennedy: (00:19)
Today we're talking about summer holiday memories. So I hope you had a good summer holiday? At the time of recording, we've just come back from ours, and the children have returned to school. So it's that time of the year where the age-old question is asked, "How was your summer?" And if your children are anything like my daughter, they can't remember a thing they did despite the fact that you planned lots of interesting activities and did lots together. If that sounds familiar, give me a like on the podcast.
Sue Kennedy: (00:55)
So I find that I'm at that age where I have to write things down (so I remember). So one of the things that I started doing about three, maybe four years ago, was to create a journal. So I use an app on my phone called Day One, and that enables me to upload a photograph with a short caption. And I just put on the things that I want to remember. Now I started doing this because I noticed that my daughter, when she was quite small, was really interested in my camera roll and would sit there, scrolling back, reminiscing with me in the way that little ones do with you. But I couldn't always remember where I'd taken the photograph or what we'd been doing.
Sue Kennedy: (01:50)
So I started looking for a phone app that would help me do that and that's where my journey started. I originally started just making notes in a notebook, thinking I would add photographs at a later date, but I quickly realised that wasn't going to work for me. I need something that I can weave into everyday life that doesn't become this massive job. It's something that I can do quickly at the end of the day and it's done. And so that's why I went with the app route, obviously do whatever suits you.
Sue Kennedy: (02:31)
The advantage I found out was that also makes note of your location. It uses the phone's GPS data, and also it tells you what the weather was like for that day, which is surprisingly interesting. When things pop up to say, four years ago, you were doing X, Y, Z, and you realise the weather is exactly the same. I don't know how that happens, but it does. So yeah, as I was saying, I wanted quick and easy to do every day that was just on my phone so that the phone photographs that I take could be uploaded to it instantaneously.
Sue Kennedy: (03:10)
I'll often add quotes that I've seen that make me smile or resonate with me. Sometimes when there's been a real historic event I'll take a photograph of the front pages of a newspaper, but I also upload her artwork. So when she was at primary school and she would maybe paint me a picture, or even as she's gotten older and she started doing more elaborate projects, I'll photograph those. Sometimes as she goes, because not everything's done quickly. And then we've got that on record and then I don't feel so guilty about throwing artwork away. I mean, we do still keep our absolute favorites, but you can't keep everything because they are so productive, especially at primary school. So that was my approach. Take a photograph of it and get rid of it. Don't tell her.
Sue Kennedy: (04:07)
Anyway, the other advantage of this app was that they offered a printing service. So I think it was each book is 400 pages, so it would take me about a year to fill it up and then I would get the book printed. It's not the cheapest way of do … Well, I mean, it's the only way of doing it because you have to use their service. But obviously it would be cheaper if I printed my own photographs and wrote my own scrapbook out, but that isn't going to happen. So I pay basically, I pay about, I think it's about 50 pounds for the books to be printed. It's got each entry for the year in with its annotation.
Sue Kennedy: (04:48)
And actually now we've got a few volumes it's good fun to look back and remember what we were doing, especially, sadly we've lost grandparents so it's nice to go back and see them in the photographs. I imagine when I get around to writing my biography, it'll be useful then, but I can't imagine anybody here commissioning me to do that. But on a serious note, it's a legacy piece. I like to think that she'll look through these with her children in years to come.
Sue Kennedy: (05:25)
And that's the reason I print them, so that they are preserved. As much as there is a cloud backup of this journal, who's going to know how to access that once I'm gone. It'll just get lost. As much as I might try and prevent that happening, I've got to be realistic. So I print the books. She knows not to throw them away. So it's my version of photographs in a shoebox, but updated.
Sue Kennedy: (06:00)
I guess that's my (approach) … This came about because I was thinking about summer holidays and how I remind her of all the things and all the activities that we have done over the summer holidays. Because six weeks is a long time for them to remember what they've been up to. And it's very easy for them to default, to just replying with, "Not much. Stuff. Nothing." Yeah, we're all use to that. We plan a fabulous day out, it costs us an arm and a leg. And then someone asked them what they've done this summer and they mentioned something random, like having an ice cream at the park. Still a good memory, but it's funny what they remember compared to what you think they're going to remember.
Sue Kennedy: (06:52)
It's also about capturing the everyday memories. I think that's important too, and by doing this … Or I don't do it every day. When I've got something I think is worth sharing I post an entry, but I don't make a rod for my own back thinking, "I have got to post a photograph a day." I think that would drive me nuts, but it might work for you. It certainly gets you into the habit of doing things like that. But it's just the little details of everyday life that I think we are in danger forgetting that I don't want to forget, I want to remember them.
Sue Kennedy: (07:37)
That's why I started recording, not just the summer holiday memories, that's where it started, but then gradually it grew and I started doing it all year round. I hope that makes sense? I'd love to hear what you do to help you remember the summer holidays, whether you just create an album of all the photographs and just do a specific project for the time that you're away. Or whether you do something that's a bit more, like me, a bit more every day. It's just what works for you at the end of the day.
Sue Kennedy: (08:21)
Thank you for joining me today. Until next week, bye for now. And don't forget, you can subscribe wherever you're listening so that you'll never miss an episode. Take care.