Using a pregnancy journal is one way to document your growing baby bump, and in this episode, I discuss other ideas.
Listen to the Podcast Episode:
Podcast Transcript:
Creative and fun ways to document your pregnancy, because this is really the point where a family is created.
A positive pregnancy result means days of just being a couple are ending, and that you'll soon be a family of three or four if you have twins, or you could have triplets, I guess 🙂
The nine months of pregnancy is a unique experience for every woman. So why not document that?
For some people, it will go really fast. For others, it will be punctuated by sickness. Others will absolutely glow with pregnancy. Although I think everyone experience's elements of all three!
So what I wanted to do today was go through some ideas about how you might document your baby bump, and keep those memories safe. And it's not all about photography, because there's going to be other things or experiences within preparing for baby's arrival that you are going to want to record.
Pregnancy Journal
The obvious place to start with would be with a pregnancy journal, whether that is something that you just write, whether it's something you'd like to record to video, or perhaps it's a mix of words and photographs.
You can include messages to the baby. You could make it something that is only a hard copy, or it could be done using one of the journaling apps, and there are actually specific ones for pregnancy, which didn't exist when I was expecting my daughter.
It's a great way to document how you're feeling, your thoughts. And I would just say, when you get the urge to write something down, then go with it. Don't make it a chore. You want to enjoy doing this, and then you'll keep it up, and it'll get finished.
Measure your belly
My other suggestion would be to measure your belly. Now you could do this quite simply with a tape measure, and mark it off as your baby bump grows, with the different dates. Whether it's month one or month nine, or you could do something like a belly casting, and actually take a mould of your baby bump. And that can be something to include in a baby photo shoot, obviously with blankets and stuff, to keep the baby nice and snuggly, but it's a great marker of that transition from bump to baby.
Time-lapse photography of your bump
Another suggestion would be, and this is a photography one, is to include or do a daily, or maybe a weekly, or even a monthly photoshoot. Try and take it in the same place each time, in the same pose, so that you can create a collage or a montage of those images, and maybe even include one of the new baby when they make their appearance.
Pregnancy Interview
And then the other suggestion that I have for you is to do a pregnancy interview. So this is something I have suggested before to do with your children on their birthday and ask them a series of questions just to record how they're feeling on their birthday. But you could do exactly the same to record how you're feeling about your pregnancy, how far along you are, what weight you've gained, the types of clothes you're having to wear today, what you're finding easy about this pregnancy, or not!
If you've got any wonderful food cravings, or when you first feel the baby kick. What you're missing doing, but what you're enjoying about the pregnancy as well.
It's about capturing all the moods and emotions, and ultimately how much you're looking forward to meeting your baby.
Professional Maternity Photoshoot
And then finally, I can't get away without suggesting that you have a professional bump photo shoot. It's a great opportunity to record your pregnancy in a way that, as much as you can capture images on the phone, it can be tricky for both of you to be in it. And I think it's nice to have some photographs with your partner, both looking down at the bump, and just generally capturing the excitement of that moment.
If that's beyond your budget, then at least try and capture something yourself. And the easiest one to capture would be a silhouette. So position yourself so that you are against a window, and then the person taking the photograph is photographing you backlit which results in a silhouette of your bump.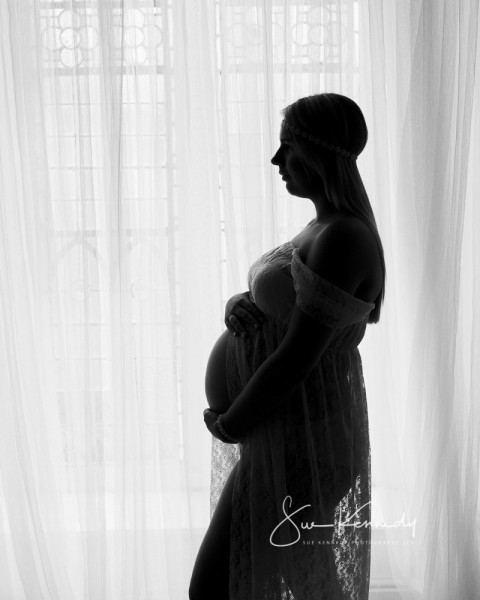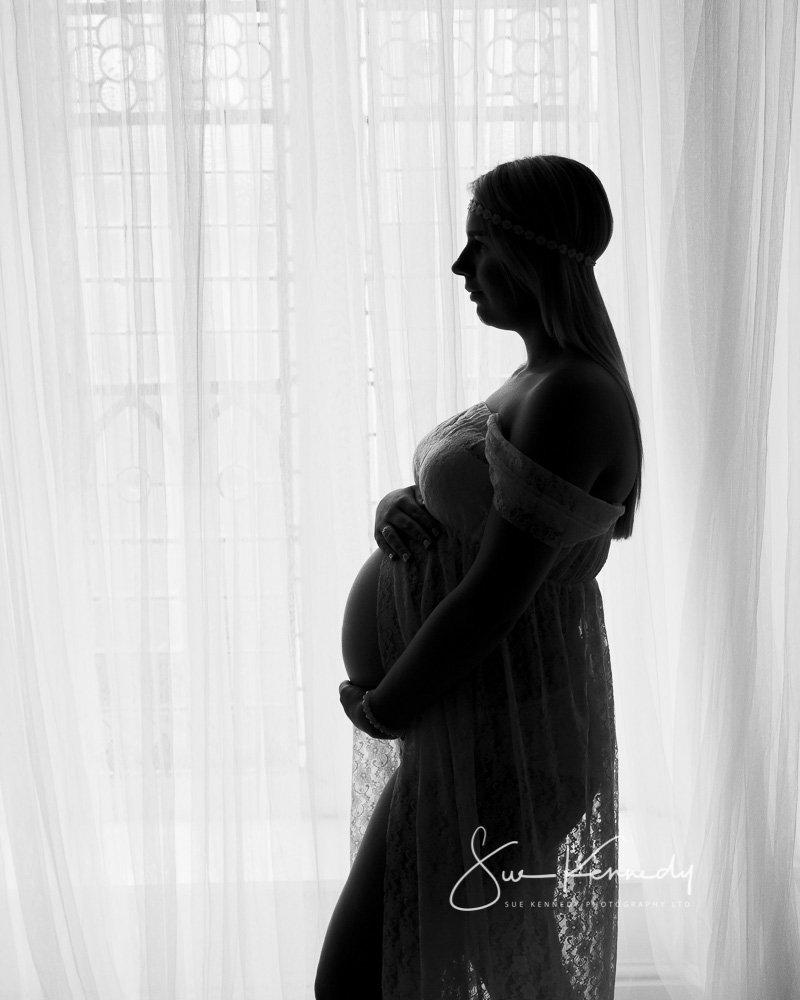 Check out an earlier blog on Creative Ways to Document your Bump During Pregnancy for some more ideas.
I hope this gives you plenty of inspiration to document your pregnancy, do drop me your thoughts on social media @photographsinashoebox.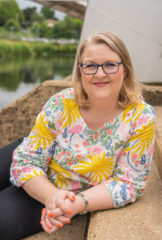 About Your Podcast Host – Sue Kennedy of Sue Kennedy Photography
Sue is a professional portrait photographer based in Harlow, Essex and she specialises in baby, child and family portraiture. Being a parent, she understands just how special your child is to you and her aim is to produce a collection of images that are natural and meaningful to your family. No two moments are ever the same and she wants to perfectly capture those early precious memories and the natural character of your child.
For more information please call 01279 433392, or visit the Sue Kennedy Photography website.
---
Don't forget to subscribe wherever you are listening, so you never miss an episode, and share it with your friends.

---