In today's episode, I wanted to talk about what clearing out my own parents' house taught me about the power of photographs, and how it changed my outlook on 'stuff'.
Listen to the Podcast Episode:
Read Transcript from the Podcast:
When we came to clear my parents' house, we discovered many old photographs. Some we'd not seen before.
Some from generations predating my parents.
Some were from our childhood and they had those weird, warm colour tones from the days of film. Caused by the chemicals are starting to fade or fail, depending on your perspective.
I guess cameras then were less high tech. A lot of the images are out of focus or soft focus, but that could be due to the lens quality, but it equally could be due to operator error as well.
But that doesn't matter to me. They still sparked enough priceless memories to earn their keep. And it started a journey for us. Well, it started a journey for me, but my brother is also interested as well.
I wanted to understand why did these photographs have such power to engage me years after they'd been taken?
Even in this digital world where a printed photo can still tug at our emotions and boost our moods. And assuming it's a happy memory, of course, and I am assuming that. Whilst everything was being sorted, all the possessions were being donated, some were sold on eBay, or they were used for up-cycling projects. And then a fair amount had to just be thrown as well.
I did keep a few bits that were sentimental to me. But I kept, or we kept all the photographs because we just couldn't let them go, such is their power.
I think my main reasons for not being able to let go of the photographs were:
They represent a snapshot of our family history.
Triggered joy and reminders of good times as a family.
Strengthened my memory of past events and relationships with my brother and my parents and aunts and uncles.
They were my life history .
I did discover some photographs with ex-boyfriends in them, but I went for balance.
I felt that that was still part of my life and my history.
And also, some of those photographs contained people that had passed away. I didn't want to just get rid of them because of one person.
The days that these photographs were taken are obviously long gone, but the photograph still provided that connection with my past.
And I think your sense of appreciation changes as the year's progress.
There's a quote by Destin Sparks,

"Photography is the art of making memories tangible."
I always say to clients that I hope their baby or family photographs will become more precious as time passes because of what I experienced clearing my parents' house and gaining that new understanding of the power of old photographs.
It does sound like a sales line until you've walked in those shoes.
We scanned a lot of these old photographs.
We guessed at who some of them were because unfortunately, most of my grandparents had passed before I arrived, so I didn't really know them.
We also discovered that it was a thing to take a photo of all the guests that stayed in the bed and breakfast at the same time that you were there taking your annual holiday. It was like a, I don't know, celebration photo.
Those photographs, obviously apart from recognising the grandparents, that's it. But it is a piece of social history, isn't it?
How times have changed.
Today, my daughter can just scroll through photos on a phone. Although we have plenty printed as well, they're very easily accessible. And.
I've also noticed that there's been a lot of clutter clearing programs on TV. And I like the way that they always make a feature out of placing treasured photographs on the wall as a celebration.
They get them nicely framed and presented so that they can be enjoyed. And it becomes a feature of the big reveal. They do say that looking at old photographs is as relaxing as meditating. And I'd agree.
I think you do see your own house differently once you've cleared a house after the passing of your parents or any other relatives.
And I do find myself that before I buy anything, I'm asking myself quietly, "Do I need it? Do I love it?" And then that decides whether I go ahead with the purchase or not.
But increasingly, I'm finding we're having more photographs around the house.
The whole process of clearing a house is an absolute rollercoaster of an experience.
There are the highs of rediscovering things that you'd forgotten about and then the lows of having to get rid. Just because there might be life in old chairs and sofas and things like that, but they just don't meet today's fire regulations, so no one wants them. And it all feels quite sad and wasteful really.
We up-cycled what we could, we sold on eBay. But it really was a full-time job sorting and dealing with pickup times and questions from potential buyers.
And it has changed me.
I can't walk around an antique or vintage shop for long anymore because I just see reminders of all the stuff I had to donate, because you just couldn't keep it all.
It's obviously not the same stuff, but I imagine it was donated in similar circumstances.
And I just relive the overwhelming task of house clearing again. I don't last long in these places. Whereas my husband will bounce around. He just reminisces the whole way around. Then he'll comment that "It's just like being at your Dad's," which gets rewarded with stink eye from me, but everyone processes differently, I guess.
And one thing I have noticed is that you never really see photographs in these places. I have no idea why that is. I'd like to think that they haven't been thrown away and that it is the one thing that the family has kept when they cleared the house. But I'll never know.
Photographs are the one thing ….
Photographs for us were the one thing we didn't throw or give away, even though we didn't know who some of the relatives were in them, because we had quite a few generations of photographs to go through. It wasn't just the last couple.
But for me, it was important to keep these photographs. They're better at triggering memories for me than trinkets or knickknacks. And whilst I kept some of these because they had certain memories attached to them, it's the photographs for me that have the longevity.
There always seems to be more of an emotional attachment to a photograph because you know the people in them, or you are intrigued by the people in them. Than perhaps a piece of furniture, which was probably shop bought.
And although it was much loved and used for many years, it was better to donate that and let it go on and live another life, which you can't do so easily with your photographs.
They remain part of your family history. And I guess they're not as intriguing to other people as they are to you.
That's all for this episode.
Don't forget to follow Photographs in a Shoebox wherever you are listening so that you never miss an episode.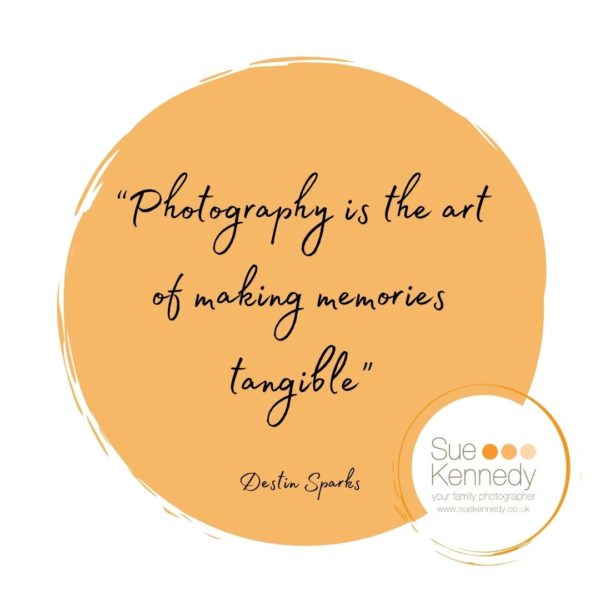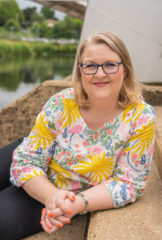 About Your Podcast Host – Sue Kennedy of Sue Kennedy Photography
Sue is a professional portrait photographer based in Harlow, Essex and she specialises in baby, child and family portraiture. Being a parent, she understands just how special your child is to you and her aim is to produce a collection of images that are natural and meaningful to your family. No two moments are ever the same and she wants to perfectly capture those early precious memories and the natural character of your child.
For more information please call 01279 433392, or visit the Sue Kennedy Photography website.
---
Don't forget to subscribe wherever you are listening, so you never miss an episode, and share it with your friends.

---