In this bite-sized episode of the Photographs in a Shoebox Podcast, I am exploring the concept or perhaps the myth of 'just one photo.' from two angles.
So I'm often asked for just one photograph in the studio, but equally, there's the, "if only I had a photo of them" angle.
You can listen to the podcast episode here:
Or read on ….
So what I mean by that is in my case, the only photograph I've got of my parents together was taken at a wedding long before I was born. They look really happy and content and they're obviously dressed up for this wedding, but I don't have any photographs of them together past that period, other than the odd family snap.
Then they're often not together because one of them was taking the picture. And I don't think we're unique as a family in that. I think that happens time and time again.
It's the same with my grandparents. I have photographs of them, but I'm not entirely sure I've got the right grandparents to the right name. That's another issue though, as I only have memories of one, as the others passed before I was born, or still very young. I met them, but I have no memory of it and very few photos.
I haven't got that photograph of me with the grandparents and I miss that.
It surprises me when people expect to leave a professional photo shoot with one photograph. And I'm not sure if that is because they don't know what questions to ask or whether they think that's all they'll be able to afford or they think that that's what we do.
And it's an interesting one to address because if I say to people that are interested in a portrait session, that I'm aiming to take a collection of images, it can sound quite salesy. But what I am trying to do, and maybe this is different from other photographers' approaches is to capture the character, the soul of your child, the cheekiness.
Tell your family story.
I don't think you can always do that in one photograph. It's very hard to get that one photograph that is both characterful, cheeky, and serious at the same time. I think babies/children have lots of different faces.
I want to tell that story.
They're not always happy and smiling. Sometimes they're very serious and thoughtful and sometimes they're very mischievous and sometimes you don't know what you want until you see it. And that's one of the things I enjoy about my job is showing families a range of images and having them like something they didn't expect to.
So they may have come in expecting to walk away with a very happy smiley portrait of their child, but actually, what they fall in love with is something a lot more soulful or characterful, whatever label you want to give it. But the end result is they're not, they're happy in the photograph. Don't get me wrong, but they're not necessarily grinning from ear to ear in it. But there is just something about that photograph that speaks to their parents. And that's the one that they want.
Quite often they will pick the one fabulous image for the wall because that is down to space. That's all they've got room for. They may have other children to consider, other artworks to consider, but then they will have more portraits perhaps in a memory box or an album because I think at that point in the photography process, they truly understood that it is about telling the story of their childhood.
I always find it quite interesting that you can show parents photographs, portfolio work of other families that you've worked with, but they don't really connect with it until they see their own child in the photographs. And that happens time and time again.
Initially, it can sound quite salesy, if I say I'm creating a collection of photographs for you that tell your family's story, but once they've seen the results, they come to understand it. And I'm also quite passionate that we have these memories.
I've spoken on previous podcasts about how we're missing out on some social history here, because although we've got the tools to take photographs all the time, we're just not printing them. And that's a real worry because technology moves at such a pace. It could be that some of the devices won't be accessible in a few years time.
And I do think there's something quite joyful about holding a photograph in your hands, particularly one that you haven't seen for a long time. It can really provoke some fond memories and send you reminiscing and off you go down that rabbit hole.
So that's why I wanted to focus on that it's more than just one photograph.
I understand budgets sometimes constrain people, but even with your own photographs that you're taking when you're out and about maybe on family's days out, I would argue that you probably don't just take one photograph or I would encourage you to take more than one photograph because it's wonderful to look back on them and have those memory prompts that come through on your phone to remind you of happy family days out.
That is what it is all about, isn't it? It's building those memories for our children. Not so we can embarrass them when they're older, that's just a bonus. But because that makes them feel like they belong to the family and there is research on this. I'm not just making it up, but it is a wonderful memory to have and to actually have a photograph jog your memory helps.
So I will always be encouraging you to print your memories and to go beyond just one photograph.
There are ways of having lots of photographs kept safe. They don't all have to be on the wall. Although gallery walls are incredibly popular and they're wonderful to look through.
Drop me any thoughts or comments you have on this topic on social media @photographsinashoebox.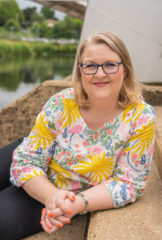 About Your Podcast Host – Sue Kennedy of Sue Kennedy Photography
Sue is a professional portrait photographer based in Harlow, Essex and she specialises in baby, child and family portraiture. Being a parent, she understands just how special your child is to you and her aim is to produce a collection of images that are natural and meaningful to your family. No two moments are ever the same and she wants to perfectly capture those early precious memories and the natural character of your child.
For more information please call 01279 433392, or visit the Sue Kennedy Photography website.
---
Don't forget to subscribe wherever you are listening, so you never miss an episode, and share it with your friends.

---