In this 9 min episode of the Photographs in a Shoebox Podcast I chat through ideas for 10 baby photos to take before you leave the hospital. Precious memories to capture during those first 48 hours of your baby's arrival, simply because this time can be a bit of blur, so prime your partner to capture at least one photo 🙂
Listen To The Ideas Here
Or read on ….
Today, I wanted to talk about the baby photos to take before you leave the hospital. Now, my own daughter was born in December, so it's on my mind at this time of the year. Although it's not a huge month for births, obviously this is a podcast and it could be listened to at any time in the future and will still be relevant.
What I plan to do is share my 10 must-take photographs of your baby's birth. I'm not talking about the actual birth process, just the part when your baby is snuggling in your arms, that end of the operation.
There are photographers that offer birth photography (not me), but I'm thinking more practically for parents. I think when you're in the throes of actually having the baby, taking a photograph probably isn't the first thing on your mind. I don't blame you.
Although this is '10 ideas of photographs to take before you leave the hospital', my aim is just for you to take at least take one. I think any more is a bonus, but it's still a beautiful memory to have. So I hope this inspires you to at least get the smartphone out and take some photographs in the hospital, or at least brief your partner with some ideas.
First Cuddles
I would go with first cuddles of mum with baby or dad with baby, or maybe you can find someone else to take a photograph and you can both be with baby. I would keep it snugly and tight crop of head & shoulders. This is not a time for full body photography. We want to see your connection with your baby. So photographs of you nose to nose with this new, tiny newborn make beautiful memories.
Capture their measurements and their weight
We had a midwife who very cleverly took a photograph of my husband, sat behind the baby weighing scales with our daughter on them. And it shows how much she weighed. And we've also got the tape measure that they used to measure her. They gave us a paper tape measure at that time. I believe it was the midwife's idea to take this photograph. I absolutely love it. My husband obviously knew he needed to take a photograph, but I don't think he would've thought of this setup personally. I was still in recovery, so it was nothing to do with me, but I really appreciate the fact that she went to this effort and it's a photograph I look at a lot.
Capture their tiny toes and try and show some scale with that
So if you can cup their little feet in your hands or something like that, and I wouldn't worry about hiding the ID bracelets either. I think they're a nice touch. It shows how new they are.
And their hands too
And then similarly their hands, if they will grab your little finger, or sometimes I've seen photographs where when the baby's clenching their fist and mum or dad has put their fist next to it, like they're doing a fist pump. That makes a beautiful photo as well.
Capture them in their first bed
So I'm thinking hospital cot when I say this, and an overhead shot of the full cot structure to frame the picture with your new tiny baby in it is one I'd go for.
Capture them feeding, breastfeeding or bottle-feeding.
First Bath
If you're in long enough, you might be able to capture their first bath as well. I know when I was in the nursing staff actually did my daughter's first bath, but that might be because I wasn't in great shape so I certainly didn't leap up and take a photograph. Hopefully, you'll be too 🙂
With all of these ideas, take it with a pinch of salt. You've got to look after yourself first as well.
Baby meeting their siblings
If they've got any. It could just be older brother or sister looking over the hospital cot at their new brother or sister. They're probably not going to be holding them. It just depends on what the age difference is, but it's just that look of awe when they first see their new brother or sister that is beautiful to capture.
Meeting grandparents
Although that might not be possible in the hospital at the moment due to the pandemic. But when I had my daughter, I remember my father coming up to the hospital and holding my daughter for the first time. A bomb could've gone off, but nothing was going to distract him. He was just so absorbed in looking at this new tiny baby and chatting away to her and it was a lovely photograph to capture. It was like the rest of the world disappeared. And he was just immediately in love with his new granddaughter.
Leaving the hospital
So I've seen some great photos where it's literally the parent's legs and the new baby in the car seat, as they're leaving the hospital. It's almost become a silhouette because the light is all ahead of them.
I've also seen some really cute setups on Pinterest with things like chalkboards displaying baby's name or their measurements, which is very forward-thinking, and of the baby holding their scan photos as if to say 'I'm here now'. But seriously, that was way more organised than I was and I was a photographer at the time.
It's a case of taking a photograph when you remember. I think that's probably the best you can ask for when you're in the hospital. Another photo to consider is if you are in hospital in labour for a long time before the baby arrives, you can do a 'waiting for baby' photo. So, an impromptu bump photograph. If you are in your hospital gown cradling your bump and looking like you're ready for the baby to be here, it's part of the story, isn't it?
I know everybody is in hospital for different lengths of time. So it may be that some of these photographs get taken at home. I would just really encourage you to try and take a photograph in those first 48 hours of your baby's birth.
Your future self will thank you. And it's even more important now that the bedside photographers can't go into the hospitals at the moment because of the restrictions due to the pandemic. So we are even more reliant on what we can do ourselves.
Do drop me a comment on social media @photographsinashoebox, and that's it for this episode. So don't forget to follow Photographs in a Shoebox, wherever you are listening so that you never miss an episode.
Thank you for joining me today. Bye for now.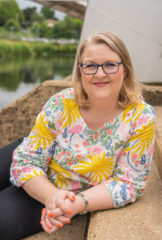 About Your Podcast Host – Sue Kennedy of Sue Kennedy Photography
Sue is a professional portrait photographer based in Harlow, Essex and she specialises in baby, child and family portraiture. Being a parent, she understands just how special your child is to you and her aim is to produce a collection of images that are natural and meaningful to your family. No two moments are ever the same and she wants to perfectly capture those early precious memories and the natural character of your child.
For more information please call 01279 433392, or visit the Sue Kennedy Photography website.
---
Don't forget to subscribe wherever you are listening, so you never miss an episode, and share it with your friends.

---