Goodbye 2021, you were quite the rollercoaster year, although despite this we as a family still managed to make plenty of memories – albeit in a different way as plans naturally pivoted in response to changes brought about by the pandemic, which is the theme for today's bite-sized episode.
Listen to the Podcast Episode Here:
Or Read On ….
This is the very first episode of 2022. I decided to take a little break over Christmas, and New Year. Just to refresh and enjoy some downtime, which I did very successfully.
I wanted to take the opportunity to reflect on 2021 and what a roller coaster that was, with plenty of curveballs in there. And it made me revisit my journal. So I call it a journal, but really it's a private photo diary where I upload a photograph of events or occasions, memories that I want to keep. And I just add a few words to caption them via an app on my phone. I use one called Day One.
One feature, similar to other apps, is to remind me what I was doing on this day up to four years back. I started about four years ago.
So as you can imagine, the entries for 2021 are a little different to previous years. And I don't have a problem with that, it reflects what happened this past year. And it just means that because, I guess we've all been thrown out of routine, that some of the places where you'd expect to see certain images, they're just different. Family birthdays and things like that, where you'd expect to see a whole group of us, depending on the restrictions, there might have just been the core family there. But I still chose to keep that update.
And it's kind of funny because this time last year, I thought we would soon be heading back to life. Maybe a new normal, but how wrong was I?
I still want to create photographs or memories that capture the spirit of my daily life. And I have no idea what the next year is going to bring. Probably a whole load more surprises, but I don't really want to change my approach to how I update the journal.
I know this sounds weird because everybody at the moment is talking about what they're going to do differently, what their hopes and aspirations are. They're setting, crazy goals. And maybe that's because I'm a small business, I actually think it's a hell of an achievement to still be standing. But I guess everybody has a different approach.
For me, I still want to savor the memory-making moments, because I know that one day I will look back on them with the benefit of hindsight. And I don't want to do that with a rose-tinted view of life. I want to remember the good, the bad, and the bonkers times that we've all had this past year or so, and the reality of it.
So I will keep up with making those photo entries, as and when I feel that something has happened I want to remember. I don't do it every day. I do it when we've got something special that has happened. Or even if I'm walking along and I see a beautiful light on a mushroom, that will make it in.
So it's a very random, quirky photo diary.
I often think it would be wonderful to time travel and come back in a hundred years time and see what people make of it. But it is important to me that I do it. It's my therapy, my coping strategy for the bonkers times that we're living through at the moment. Well, it was before, so not quite sure what that says about me.
So those are my thoughts for this week as we start the new year. So I'd love to hear yours, so drop me a comment on social media @photographsinashoebox.
And that's all for this episode. Don't forget to follow the podcast wherever you are listening so that you never miss an episode.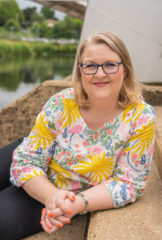 About Your Podcast Host – Sue Kennedy of Sue Kennedy Photography
Sue is a professional portrait photographer based in Harlow, Essex and she specialises in baby, child and family portraiture. Being a parent, she understands just how special your child is to you and her aim is to produce a collection of images that are natural and meaningful to your family. No two moments are ever the same and she wants to perfectly capture those early precious memories and the natural character of your child.
For more information please call 01279 433392, or visit the Sue Kennedy Photography website.
---
Don't forget to subscribe wherever you are listening, so you never miss an episode, and share it with your friends.

---