Pregnancy photos can be a marmite subject. Some want them, and others not so much. They can be a great way to start telling a new chapter of your family's story, but equally, this could be represented with a pregnancy journal, or perhaps a mix of the two.
Listen to the full episode via the player or read the transcript below. I'd love to hear your thoughts:
Listen to the Podcast:
Read the podcast transcript:
Hello, and welcome to the Photographs in a Shoebox podcast with me, Sue Kennedy. Today, we'll be talking about pregnancy photos and whether they're worth it.
But before we dive into this conversation, I just wanted to share something with you that is both free and fun. So if you are planning, your baby's first pictures, then I have a quiz for you to take to discover their picture personality. It'll take less than two minutes and I'll also send you my top tips for preparing for a portrait session. So if you head over to suekennedy.co.uk/quiz-baby, you can get started there.
I promise you'll be able to answer all the questions 🙂
So are pregnancy photos worth it?
Now I hear different opinions on this, and I was actually looking at some of the responses to a similar question about having pregnancy photos from a group of mums to be. And there were comments like:
"I'd rather spend the money on family photos in the future" to "what would I even do with these photos?" Also, "definitely do them. I did not have them with my first and I regretted it."
Someone else said, "I just don't see why a maternity photo would stay framed when you could replace it with the actual photographs of the baby". Another lady commented, "I just had mine done last week and I'm really glad I did my husband and I didn't have any pictures done since our wedding and the ones of us two together turned out really nice."
I'm not going to give you my thoughts on each of these comments, as I think it's a really personal decision and it's obviously budget dependent. There really is no right or wrong answer. But what I would like to do is to start the conversation.
Now I will declare from the off that from my perspective capturing your baby bump is a great way to start a baby's first-year album. It's the beginning of your family's story, but I do understand it's a marmite subject and you may want to start at a different point.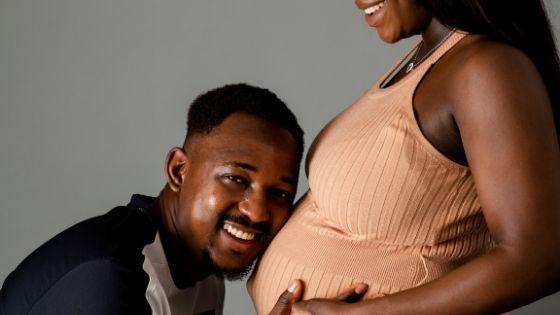 Now, I have professionally photographed plenty of baby bumps in my time and I just want to share with you what I have observed.
So first off, the elephant in the room, is that there are no requirements or need to go naked for your pregnancy photos. In fact, most ladies keep their clothes on. So they'll be wearing crop tops with leggings, or a body-conscious dress that really shows off that baby bump, but preserves their modesty, and it still captures the moment.
I think some of the comments earlier alluded to this, but there is an element of 'do it rather than don't and wish you had.' When I was on a photo training course, we were actually photographing bumps. I was chatting with a friend of one of the models that had attended because we do like to use real people.
Now, this friend, and her children were at secondary but she wished that she'd had a baby bump photoshoot done at that time. But they weren't really a thing then, so it's probably about 15 years ago now, or at least she didn't know about them. But it's not the first time I've heard this either even in more recent times.
Pregnancy is a fairly magical thing, it doesn't last forever.
Thank goodness! And although it can be hard, I think it's really important to embrace it and commemorate it. I know a lot of ladies want to record it to mark their last pregnancy with a few photos.
It is something I did. I did it self-portrait style. We used the timer for when my husband wanted to be in the pictures as well. Otherwise, he took the photographs.
I appreciate it's not the easiest time for people, not everyone sails through pregnancy, although lots of people do.
Around the seven to eight month mark, you've kind of got a nice shape but you aren't yet so tired and fed up that you want to be done with it. Obviously, you wouldn't want to communicate that in the photographs, you want to be happy and excited and joyful about the occasion.
Even if you can't do or don't want to do professional photographs, I'd at least take one or two yourselves.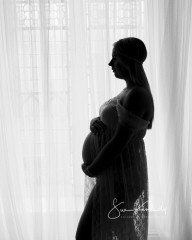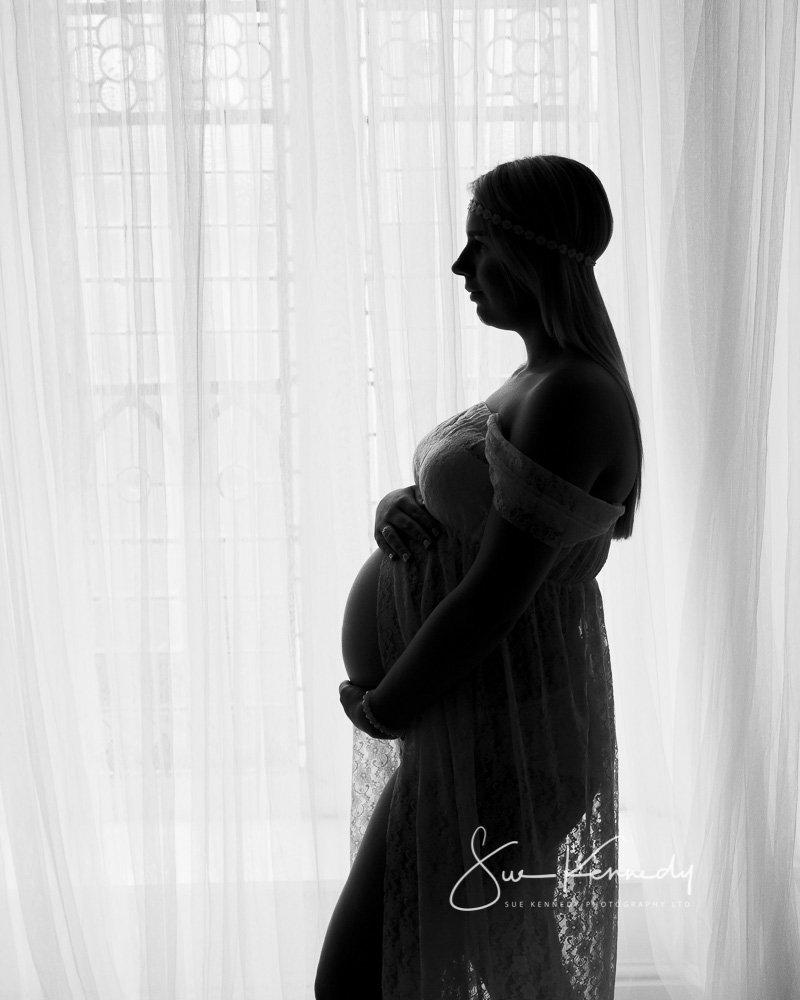 Probably the easiest shot to capture is a silhouette. Stand in front of the window and ask your partner or a friend to take the photograph with the camera towards the window light. It may automatically adjust the exposure so you become a silhouette or you might have to help it along.
If the majority of the picture is the window light, then the camera will expose for that window light and automatically you will become a silhouette or your profile will become a silhouette.
This style of a photograph can also work if you've got other children or you want your partner to kiss the bump.
I think it's great to show everyone's excitement about the new arrival. And at the end of the day, your bump photographs don't need to be shown to anyone, it's your memory. It's marking how amazing your body is at nurturing new life and it can be kept private.
Let's wrap this up.
Should you, or shouldn't you?
I think it's one of these photos you'll look back on with different eyes, possibly different emotions when you're no longer pregnant. It's just the way it is.
If photos aren't for you, I'd create a pregnancy memory book. If you want to note things down, or maybe a box. Or you could maybe go digital and just record sound bites from yourself, from the grandparents, about this new baby.
You could take pictures of the pregnancy test, the first scans, your thought processes on choosing baby names, and if you had any wonderful and weird food cravings, it's all things to record.
I would just start with the methods that you'll like to keep up, otherwise, you'll just get frustrated with it.
I kind of wish I'd recorded all the things I said I'd never do or be as a Mum and then I could compare them to what actually happened. Because I think as a first time parent you've got rose-tinted glasses initially. And then there is a moment in time when it kind of gets real and they drop off and you suddenly get why people did things the way they did them, even though you found it a bit strange, but then it all makes sense.
In this memory box, I'd still fight for a photo or two in there, even if it's just the silhouette one. It just wouldn't be me if I didn't encourage you to have a photo or two, would it? 🙂
Pregnancy Photos From Your Baby's Perspective …
From your baby's perspective, when they're older, seeing a photograph of you pregnant with them, your face all lit up, beautiful smile and you're cradling your belly and there's that sense of excitement and nurturing love and all that. And they'll be looking at it as a little boy or girl and just imagining themselves all curled up inside you.
Photographs have the power to trigger feelings, memories, and emotions and I think that's true whether the people were there or those that weren't there. Although, technically I guess the baby to be was there. But anyway, you know what I mean.
I'd love to hear your thoughts. Are bump photographs for you? Are they going to be part of your pregnancy memory stash? Do let me know.
Anyway, that's all for this episode. I hope you've enjoyed it. Do give this podcast a like or a follow on your preferred podcast player. And it'd also be great if you could leave me a review of this podcast on Apple Podcasts.
Bye for now.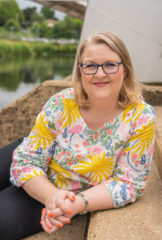 About Your Podcast Host – Sue Kennedy of Sue Kennedy Photography
Sue is a professional portrait photographer based in Harlow, Essex and she specialises in baby, child and family portraiture. Being a parent, she understands just how special your child is to you and her aim is to produce a collection of images that are natural and meaningful to your family. No two moments are ever the same and she wants to perfectly capture those early precious memories and the natural character of your child.
For more information please call 01279 433392, or visit the Sue Kennedy Photography website.
---
Don't forget to subscribe wherever you are listening, so you never miss an episode, and share it with your friends.

---