Telling your story one photograph at a time.
I believe everyone has a story to tell, and I was reminded of this the other day. In our profession, we help people by telling their story through photographs of their family, and this podcast is my reminder to you to do the same.
Listen to the Podcast:
Read an edited transcript of the podcast
In this episode, we'll be talking about telling your story one photo at a time. But before we dive into that conversation, I've put together something which is free and fun. And you're probably here because you're interested in doing more with the photographs you love. And maybe wondering about getting your baby photographed. So my free quiz will help you discover your baby's picture personality. It takes less than two minutes and I'll also send you my top tips for preparing for a portrait session. So head over to the website, Suekennedy.co.uk/quiz-baby to get started.
So has anyone been watching the BBC series, Extraordinary Portraits? I was hooked when the first artist Roxana Hall, I believe she painted the twin sisters who survived a crocodile attack in Mexico. Well, when I say painting, she painted their portraits. And just the way she described creating that portrait or portraits, in general, was memorising. And in fact, all the artists have been. The way they interpret their stories and then go on to create art in their style, but still captures the powerful story of the sitter. And it really just drew me in.
"I Believe Everyone Has a Story to Share"
And coincidentally, I was chatting with another photographer about his why. So it's so easy for us photographers. We just say we create memories for families. And yeah, so what. But he literally said, "I believe everyone has a story to share." And that brought me right back to why I started this podcast, to inspire you to tell your story or at least preserve the photographs for later.
Even if it's one photo at a time and it's all taken by you, that's fine. I just think too many memories are being lost or will be lost. And I think we'll come to regret that in years to come.
Lost Baby Photos
Let me give you an example. My daughter, when she was in primary school, she had to take in a baby photograph and I was genuinely shocked when some of the other children could not. I mean, every excuse was given, but it all boiled down to one thing. The parents hadn't thought to print them and now they were gone for various reasons.
So I find that strange. I really value photographs whether I've taken them or not. So I just couldn't comprehend how that might happen. And accidents do happen. There's nothing you can do about that, but it just made me feel a little bit sad that these children didn't have a baby photo.
I understand that not everyone can afford or indeed want professional photographs, but it's not about that. They only had to take in a photograph their parents had taken. It wasn't any deeper than that.
So, but anyway, having professional portraits is not really the point of this podcast. I want to encourage you to tell your story one photo at a time. And yes, ideally I'd like you to print it in an album just so that it can be discovered and enjoyed five, 10, or 20 years from now.
Portraits that Represent Modern Britain
One of the main points from Extraordinary Portraits was that it was about creating portraits that represented modern Britain. So we have a lot of galleries full of portraits from hundreds of years ago that represent that period of time. We have the responsibility to represent this period of time.
Tips to Capture Portraits Yourself
Let me take you through some tips to help you capture these portraits or everyday images, however, you want to label the photographs that you take yourself.
Capture the small details that help tell the story. So it might be their favourite toy or that t-shirt, you could never get them out of.
Look for variety. Take photographs from different angles, get down to their level, just play with it.
Frame – just before you take the photograph, just have a quick look around the frame and make sure there isn't any detail that's unnecessary in there that is going to distract.
Plan ahead. So if you know that birthdays are coming up or holidays are coming up, organise yourself so that you remember to take the photographs.
Curate. So by that I mean, delete the worst photographs, the photographs you've taken as you're walking along, didn't realise, and then heart or favourite your favourites. So that when you come to the point that you want to print something or create an album, you can do it quite easily. You know which ones are your favourites because lets be realistic. You may not get around to doing this straight away. It may be a month down the line.
Capture the emotion. So this is probably best done by capturing facial expressions and body language. It's hard to explain on the podcast, but just aim to have not everybody looking at camera all the time, but a variety of angles, I guess, will just communicate the enjoyment. And sometimes a little bit of movement in the image can communicate that as well.
Basics. Don't forget about the basics. So try and think about the lighting so that people don't have Halloween style shadows on their face, because they're just slightly in the wrong light. Natural light is always going to win I think, over artificial house lighting. So using window lights is probably the best thing when you're taking your own photographs and trying to avoid things like your thumb getting into frames as well although we all do that. I look back at some of my pictures and think, now I know what I'm doing and I still do it. You can always crop it out.
Summary
I believe that everyone has a story inside them and I'd encourage everyone to capture photographs to tell that story. And of course, I'm going to say print the ones that you love.
I'd love to hear your thoughts on how you would tackle this @photographsinashoebox
That's all for this episode. I hope you've enjoyed listening. And do give this podcast a like, or a follow on your preferred podcast player. And if you're feeling very generous, please do leave me a review on Apple Podcast because it's always great to have feedback on the show.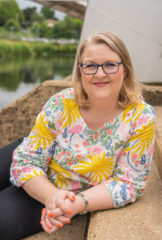 About Your Podcast Host – Sue Kennedy of Sue Kennedy Photography
Sue is a professional portrait photographer based in Harlow, Essex and she specialises in baby, child and family portraiture. Being a parent, she understands just how special your child is to you and her aim is to produce a collection of images that are natural and meaningful to your family. No two moments are ever the same and she wants to perfectly capture those early precious memories and the natural character of your child.
For more information please call 01279 433392, or visit the Sue Kennedy Photography website.
---
Don't forget to subscribe wherever you are listening, so you never miss an episode, and share it with your friends.

---