Whilst scrolling Instagram recently, I came across a fairly sizeable post about hand-me-down clothes, and the memories they trigger, in much the way old childhood photos do. The difference being the photographs are handed down through the generations (hopefully) and not passed to friends or even strangers via a charity shop donation.
However, both trigger the same opportunity to reminisce and enjoy the memories once more.
Listen to this Podcast Episode:
Read the Podcast Transcript:
Hello, and welcome to the Photographs in the Shoebox Podcast with me, Sue Kennedy.
Today, we are going to be talking about hand-me-downs, as in hand-me-down photographs, but before I dive into that conversation, I just wanted to tell you about something new that I've put together and it's free and fun.
You're probably here because you are interested in doing more with the photographs that you love and maybe wondering about getting your own baby photographed.
Take The Quiz
I've put together a fun, free quiz that will help you discover your baby's picture personality. It'll take you less than two minutes and I promise you'll know all the answers as well.
Once you've completed the quiz, I will send you my top tips for preparing for a portrait session and also what your baby's picture personality is. If you head over to the website, suekennedy.co.uk/quiz-baby to get started.
Hand-me-down Clothes
I was scrolling through Instagram and I came across an article about hand-me-down clothes and it stopped my scroll. Whenever I used to pass clothes onto friends, I always got the distinct feeling they'd rather I didn't, even though there was nothing wrong with them.
But this post went way beyond the money-saving, planet-saving aspects and straight to the memories. It turns out that our baby clothes trigger memories too.
There were so many comments on the post reminiscing about the onesie that their baby once wore. It absolutely resonated with me. I kept certain clothes from my daughter's baby days that held good memories.
One of the reasons I donated the clothes was because there was still plenty of life in them, but clothes aside, if the truth be told, I've probably kept more photographs than I did the clothes.
It was interesting to me how the concept of passing the clothes on created this giving circle. New photographs were taken, although the outfit remained and the baby changed, obviously, so the story differed. It became part of the new family's story.
I had just never thought of hand-me-down clothes like that. I just considered the practical side of helping someone out or literally just recycling them. It was amazing how sentimental people were about the baby clothes.
Sentimential Photographs
I guess people are the same about baby photographs as well. Although we don't pass them down in quite the same way, we do still pass those memories on through the generations so that they can be enjoyed again and again, although I don't think we think like that until we are older and the children are older.
I've seen it in the studio. I've had three generations in and the grandmother is telling her daughter the baby looks just like her at the same age and has a photo to prove it. Now, the daughter's normally eye rolling her mother at this point, but with good humour. She's secretly enjoying it, or pleased that the baby looks like her, but we all do that, don't we?
Bringing Family History to Life
I always think of the TV program, Who Do You Think You Are. There are some others around at the moment and they explore a celebrity's family history. When the researcher produces a photo of great-great grandparents, you just sense the utter delight of the celebrity who instantly feels more connected to that family member because they've got a visual of them.
I just love it when they say, "Oh, she's got the family nose," or something like that.
I often think that with photographs, I'm trying to market something that people don't know they need until it's too late, but there's nothing any of us can do about that. We are where we are.
Summary
Whilst I didn't think of donating baby clothes in the same way as creating baby memories as photographs, there's plenty of common ground for making us sentimental about those babyhood days and both help the next person who receives them to understand or enjoy them.
I think with photographs, it's all about preserving those memories and with clothes, it's probably about creating those memories and being practical as well.
I'd love to hear your thoughts. Are you as sentimental about baby clothes as you are about baby photographs? Let me know @photographsinashoebox
That's all for this episode. I hope you've enjoyed it.
Do give this podcast a like and a follow on your preferred podcast player. It would also be great if you left me a review of the podcast on Apple Podcasts because I'd love to hear what you think of the show.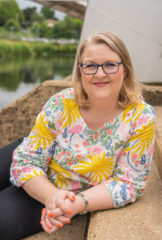 About Your Podcast Host – Sue Kennedy of Sue Kennedy Photography
Sue is a professional portrait photographer based in Harlow, Essex and she specialises in baby, child and family portraiture. Being a parent, she understands just how special your child is to you and her aim is to produce a collection of images that are natural and meaningful to your family. No two moments are ever the same and she wants to perfectly capture those early precious memories and the natural character of your child.
For more information please call 01279 433392, or visit the Sue Kennedy Photography website.
---
Don't forget to subscribe wherever you are listening, so you never miss an episode, and share it with your friends.

---